More brutality in Syria and passivity in Washington
Another 15 people, including 2 children, were gunned down by security forces in protests on Friday...and Mr. Obama? Again failed to take significant action in pursuit of what he said would be "a top priority."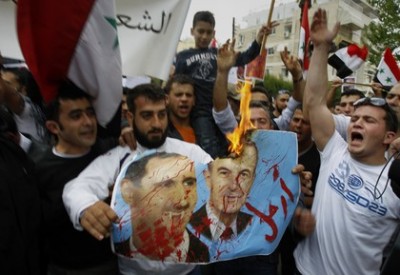 ANOTHER WEEK has passed since President Obama delivered the May 19 address in which he pledged to use "all of the diplomatic, economic and strategic tools at our disposal" to oppose repression and support democratic transitions across the Middle East. In that time, the uprising in Syria has passed its 100th day with no end in sight — and no letup in the regime's murderous violence. Another 15 people, including two children, were gunned down by security forces in protests on Friday, according to the Associated Press. That followed an offensive on Thursday by Bashar al-Assad's forces against several villages near the border with Turkey, where many refugees had gathered. More than 1,000 crossed the border, bringing the Syrian refugee total in Turkey to more than 11,000.
On Tuesday, the day after Mr. Assad delivered a speech at Damascus University offering vague promises of reform, security forces launched a raid on the university's dormitories when students refused to be drafted for pro-regime rallies. The Los Angeles Times reported that several people were killed and dozens beaten or detained — making a mockery of Mr. Assad's rhetoric. The Syrian opposition now says that more than 1,400 people have been killed by the regime's forces, which have used tanks, helicopter gunships, machine guns and snipers to assault crowds of unarmed civilians.
The European Union responded to these outrages on Friday by expanding its sanctions: Seven more individuals and organizations were cited, including three commanders of Iran's Revolutionary Guard. A tough declaration said that "the regime is calling its legitimacy into question." Britain and France have been leading efforts to pass a resolution on Syria through the U.N. Security Council.
And Mr. Obama? His administration again failed to take significant action in pursuit of what he said would be "a top priority." A week ago State Department officials summoned reporters to say that they were considering several initiatives, including targeting Syria's energy exports and referring the regime's crimes to the International Criminal Court. But no moves have been announced.
Instead, Mr. Obama and Secretary of State Hillary Rodham Clinton have been calling their counterparts in Turkey, a country whose foreign policy has sharply diverged from that of the United States in recent years. Turkish President Recep Tayyip Erdogan has condemned the Syrian repression, but he has also pursued a policy of courting Mr. Assad in recent years. Turkey pressed Syria to end the military operation along the border, but its foreign minister suggested Friday that Syria's crisis could still be ended through reforms led by the dictator.
That, in effect, is the Obama administration's position as well: The president, who has spoken in public on Syria only twice, has declined to say that Mr. Assad is an illegitimate ruler or that he should leave office. Mr. Obama's reticence reinforces the equivocating policies of countries such as Turkey, to which the United States has ceded leadership on the issue. No doubt it gives Mr. Assad hope that if he can kill his way to stability, the Obama administration will again seek to "engage" him. Most of all, Mr. Obama's silence and his administration's passivity sends a message to the people of Syria and to the larger Middle East: His pledge to use all of America's resources to support the cause of freedom in the Arab world was an empty one.