Lebanon Interior minister clashes with Internal Security chief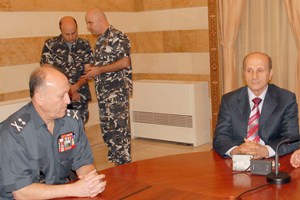 The newly named Interior Minister Marwan Charbel clashed with Internal Security Forces chief Maj. Gen. Ashraf Rifi over the issue of promotions within the security forces .
Al-Akhbar newspaper said Saturday that Charbel ordered a freeze on the promotion of the 400 internal security employees from ( policemen to sergeants ) that were recently promoted by Rifi
Rifi signed off on the promotion on June 22, according to Al-Akhbar
The daily said the newly promoted employees had to give up their badges a day after the ISF chief promoted them.
Charbel represents president Michel Suleiman in the new cabinet , while Rifi is supported by former PM Saad Hariri , a key leader in the March 14 alliance . According to analysts if Suleiman will start targeting March 14 supporters he will cease being a centrist and could be subjecting himself to attacks by the new opposition.
According to March 14 coordinator Fares Soueid , Suleiman helped Hezbollah in toppling the government of former PM Saad Hariri last January . The Iranian and Syrian backed Hezbollah-led March 8 alliance had 10 members in the last cabinet but needed one more minister to resign in order to bring down the cabinet . It was the vote of the Shiite minister that was assigned to Suleiman , Minister of State Adnan Sayyed Hussein that finally brought down the government.
Hussein was reportedly promised by Hezbollah the ministry of Foreign Affairs as a reward of his cooperation , but the party reneged on its promise and he is not in the new cabinet.
Hezbollah brought down PM Saad Hariri's government on January 12 over the Special Tribunal for Lebanon's ( STL) indictment which is widely expected to implicate Hezbollah members in the assassination of former PM Rafik Hariri in 2005.