March 14 united in confronting the new Lebanon cabinet, report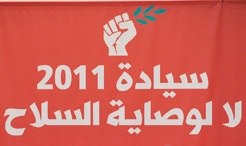 Informed sources told al Jamhouriya newspaper that the leaders of the March 14 alliance held a lengthy meeting Wednesday evening at the the center house in downtown Beirut that lasted for more than 3 hours .
The meeting was attended by " former PM and current Future Movement Parliamentary bloc leader Fouad Siniora, Deputy Speaker Farid Makari, former minister Mohammed Chatah , MP Michel Pharaon, Chairman of "national Liberal Party" MP Dory Chamoun, Lebanese Forces leader Dr. Samir Geagea, head of the National Bloc Party Carlos Edde, head of "the independence movement Michel Moawad and former MPs: March 14 coordinator Dr. Fares Said, Samir Franjieh, Bassem al Sabaa, Elias Atallah, Ghattas Khoury, Director of the Office of former PM Saad Hariri Nader Hariri. Absent from the meeting was former President Amin Gemayel who is currently in Brussels and Sami Gemayel who called to apologize "
They discussed how to organize the opposition against the newly formed cabinet . The first step they took was they agreed to take a unified stand during the vote of confidence session.
The males only cabinet of 30 ministers was announced last Monday June 13 by PM Nagib Mikati after nearly five months of disputes . Syrian president Bashar al Assad reportedly stepped in at the eleventh hour to put pressure on March 8th alliance to form the cabinet .
The Iranian- and Syrian-backed Hezbollah brought down PM Saad Hariri's government on January 12 over the Special Tribunal for Lebanon's (STL) imminent indictment which is widely expected to implicate Hezbollah members in the assassination of former PM Rafik Hariri in 2005.
The March 14 leaders confirmed on several occasions that they would continue their campaign against the cabinet and will use all available means to democratically topple it