Ahmadinejad: Iran not afraid to make nuclear bomb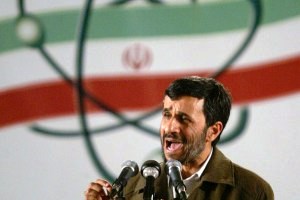 Iran's president says his country isn't afraid of making a nuclear weapon but doesn't intend to do so.
Iranian state television on Thursday quoted President Mahmoud Ahmadinejad as saying: "If we do want to make a bomb, we are not afraid of anybody."
Iran has long insisted that its nuclear programs are peaceful and meant only to generate power for a future nuclear reactor network.
But the U.N. Security Council has passed four sets of sanctions against Iran for refusing to freeze activities that could be used in a weapons program.
The U.N. says Iran also blocked an IAEA probe into allegations of secret experiments that could reflect attempts to develop an arms program.
Nuclear setback
Five Russian scientists who assisted in the design of Iran's Bushehr nuclear power plant were among the 44 fatalities of Monday's Russian plain crash, Moscow's International News Agency RIA Novosti reported Thursday.
The Tupolev-134 plane broke up and caught fire upon making an emergency landing outside the northern city of Petrozavodsk. A preliminary investigation ruled out the possibility of a technical failure.
Three of the experts – Sergei Rizhov, Gennadi Benyok, and Nicolai Tronov – were among the atom facility's designers. Andrei Trokinov, a top Russian nuclear technological expert, was also killed, as was Valery Lalyn, another nuclear expert.
The five worked at Bushehr and were to ensure the facility would withstand natural disasters.
The five were employed by Hydropress, a member-organization of Russia's State Nuclear Corporation. Hydropress is one of the main companies involved in the construction of the Bushehr nuclear power plant, and is also involved in projects in China, India and Bulgaria.
Agencies, AP