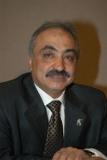 March 14 MP Mohammad al-Hajjar slammed on Monday Labor Minister Charbel Nahhas over his statement that Ogero Director General Abdel Monem Youssef's "days in the state are numbered."
"According to what I know, Nahhas is a labor minister and not a communications minister and besides the cabinet has not yet submitted its Ministerial Statement and not yet been granted the parliament's vote of confidence," Hajjar told Future TV.
Hajjar also said that Nahhas is a minister and not a judge.
Hajjar added that Prime Minister Najib Mikati and President Michel Suleiman should address Nahhas' statements.
Nahhas said on Monday that Ogero Telecommunications Company Director Dr. Abdul Meneim Youssef 's days in the Lebanese state are numbered.
Even though Nahhas is no longer in the ministry of Telecommunications he was allowed to launch a free internet service at the Sioufi park in Beirut, while the new minister Nicolas Sahnawi was standing by his side .
Upon his return from Paris , Dr.Youssef told reporters that he was willing to discuss everything before the judiciary.
"I trust the Lebanese judiciary and am willing to discuss everything before them," he said.
Both Sahnawi and Nahhas represent MP Michel Aoun in the cabinet . PM Nagib Mikati reportedly refused to allow Nahhas to return to the telecom ministry ( despite Aoun's insistence ) because of his poor performance and because he made too many enemies while he was there.