Al-Liwa: Arslan's resignation is final, but awaiting Mikati's response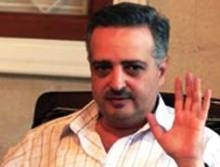 Al-Liwaa newspaper reported on Monday that Lebanese Democratic Party leader Talal Arslan's decision to resign from the cabinet is final because he said on many occasions before the cabinet was formed that he is not interested in being a state minister.
Al Liwa reported that to Arslan the issue is not about a ministerial post but about the discrimination against the Druze community by PM Nagib Mikati
Al Liwa reported that discussions are ongoing between Mikati and the president over the issue and the Lebanese Democratic Party will most probably nominate Arslan's brother-in-law Marwan Kheireddine to replace him in the cabinet .
Arslan never submitted his resignation in writing but a source close to him told Al Liwa that this won't be necessary before the Lebanese Democratic Party gets an offer from Mikati
Lebanese Democratic Party's media adviser Salim Hamadeh confirmed what the source told Al Liwa and also said the issue between Arslan and Mikati is more about discrimination against the Druze community than anything else and also confirmed that Kheireddine is one of five names being discussed to replace Arslan and this will be up to the Lebanese Democratic Party to decide .
Hamadeh stressed that Mikati is not complying with the Taef accord in allocating the cabinet portfolios. He said that the accord did not discriminate against the Druze community but Mikati is by not allowing the Druze to have any sovereign ministries such as Justice, Interior, Finance and Foreign Affairs.
Hamadeh also said that Druze have lost over 1500 key government positions and this discrimination cannot go on like this