Aoun: We won't support Mikati if he is 'vengeful'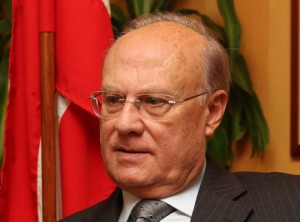 MP Elie Aoun , a member of the National Front Struggle which is headed by MP Walid Jumblatt told Free Lebanon radio station on Saturday that he will not support Prime Minister Najib Mikati if he wants to deal in a "vengeful" manner.
Aoun also said that he can only judge the new cabinet through its actions, and called on the opposition – a reference to March 14 – to give the cabinet a chance before judging it.
Aoun may be referring to the way Mikati handled his first crisis since he formed the cabinet .
Mikati on Friday accused the opposition of being behind the clashes that took place in Tripoli . This outraged the opposition who accused him of slander .
Earlier today said "the opposition should be peaceful and constructive."
"What Mikati said today is slander against us", Future Movement MP Samir al-Jisr told Future TV on Friday
Armed clashes erupted in Tripoli on Friday following a rally in support of Syrian protesters. The military official of the Hezbollah and Syrian backed Arab Democratic Party, Ali Fares was killed and 5 others including one army soldier and a seven year old child. At least 22 others were reportedly injured.
Jabal Mohsen ( home of the Arab Democratic Party) and Bab al-Tabbaneh areas have been in recent years the scene of intense clashes between Sunni supporters of Lebanon's former PM Saad Hariri and Alawites who are loyal to the Hezbollah-led coalition backed by Iran and Syria.
Many observers told Ya Libnan that Mikati failed his test as a statesman yesterday by accusing his rivals and former allies of being behind the clashes even before the investigation started.