Angelina Jolie visits Syrian refugees in Turkey, in pictures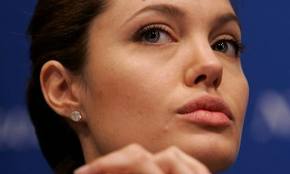 US actress Angelina Jolie, who serves as goodwill ambassador to the United Nations High Commissioner for Refugees, traveled to Turkey to visit Syrian refugees on Friday.
Jolie spent over two hours with Syrians living in camps along the Turkish border, who have fled their government's violent crackdown on protesters. The actress brought toys, fruit and desserts and used an Arabic translator to speak to those assembled, the Associated Press reported. A banner that read, "Goodness Angel of the World, Welcome," was erected near the entrance of the camp.
The Syrian government is cracking down on protests demanding the resignation of President Bashar al-Assad. More than 1,200 people have been killed since the conflict began three months ago, the Post's Liz Sly reported, and nearly 10,000 Syrians have left the country for Turkey.
The actress recently recorded a message for UNHCR to promote World Refugee Day, celebrated June 20:
Every day, thousands of people run from war, persecution and terror. Even one is too many. One family force to flee is too many. One child growing up in a camp is too many. One refu­gee without hope is too many.