MP Fatfat: This is a Hezbollah government, a Government of confrontation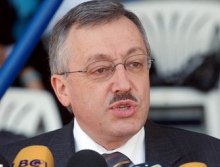 March 14 MP Ahmed Fatfat told al Jazeera TV that MP Michel Aoun is a Hezbollah follower and therefore can not be considered independent in the government. " No matter what PM Najib Mikati says this is a Hezbollah government , a Government of confrontation and we'll wait and see what the ministerial statement will say. "
Fatfat responded to MP Walid Jumblatt on Al Jazeera also bay saying : "We , the March 14 forces have never said either us or no one else should be in power . After all we included the other parties ( March 8) in the cabinets we formed". He added we will be the clear opposition to this government that did not come through democratic elections but through black gowns that scared Walid Jumblatt and made him defect to the other side.
Earlier Today Mikati told AFP."The fact that Hezbollah and its allies have 18 seats in the 30-member cabinet does not mean that the country will join the radical camp in terms of its relations with the international community."
He pointed out that it was significant that more than one-third 12 of the cabinet ministers were appointed by himself, President Michel Suleiman and MP Walid Jumblat, thus ensuring Hezbollah and its allies could not control the government.
But according to observers Hezbollah considers Jumblatt its ally too and thus it controls two thirds of the cabinet seats plus one . Including Jumblatt in the share of Mikati and Suleiman was reportedly a ploy intended to cover up Hezbollah's control of the government .