Clinton accuses Iran of role in Syrian crackdown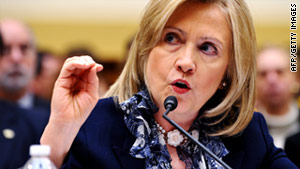 US Secretary of State Hillary Rodham Clinton is accusing Iran of supporting its ally Syria in a brutal military crackdown on political opponents.
Clinton said Tuesday in a statement issued in Washington that Iran's complicity in abuses is coinciding with the two-year anniversary of its crackdown on citizens who protested after the contested election that handed another term to President Mahmoud Ahmadinejad.
The statement didn't go into details on the type of assistance Iran was providing Syrian President Bashar Assad's regime. Activists say more than 1,400 Syrians have died and some 10,000 detained since a popular uprising began in mid-March.
Clinton said Iranians and Syrians yearn to be free.