Al Liwa: STL will announce indictment between June 20 and July 5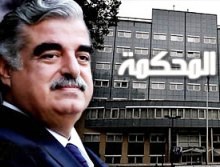 Al Liwa newspaper quoted judicial sources   in the Hague as saying  the Special Tribunal for Lebanon (STL), will announce the  indictment over the assassination of former PM Rafik Hariri  anytime between June 20 and July 5.
STL was created in 2007 by a UN Security Council resolution to find and try the killers of Hariri, who was assassinated in a massive car bombing on the Beirut seafront on February 14, 2005 that also killed 22 other people.
The Special Tribunal for Lebanon is reportedly poised to indict Hezbollah members in the Hariri murder.
The Iranian and Syrian backed Hezbollah brought down PM Saad Hariri's government on January 12 over the STL's imminent indictment .