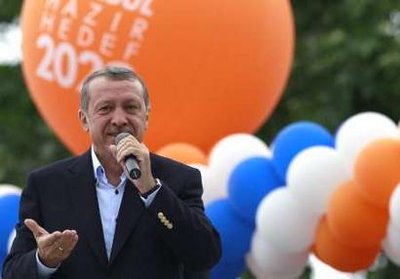 Turkish Prime Minister Recep Tayyip Erdogan is heading for a third term in office, pledging to rewrite the constitution and extend a record of economic growth that stands out amid upheaval to the east and west, early election results showed.
The governing Justice and Development Party, or AKP, won 54 percent of the vote with 40 percent of ballots counted, enough to give it a legislative majority in parliament, preliminary results published via Cihan news agency showed. Votes were counted first in the east, where the party had a strong showing in the previous election, when it won 47 percent nationwide.
Erdogan's priority, in a third term that could make him the longest-serving leader since Turkey's founder Mustafa Kemal Ataturk, is to replace the constitution that was drafted after a 1980 military coup. That would cement his victory over the generals who accuse him of imposing Islamic values.
"Erdogan is now moving into the legacy stage, where he really wants to leave a long-term impact on the country," said Plamen Monovski, chief investment officer of Renaissance Asset Managers in London, which oversees $2.5 billion in emerging- market assets. "I would hope that this constitution would be very much reflective of what a country aspiring to go into the European Union will have, and it will not have any provisions related to a certain narrow party agenda."
The main opposition Republican People's Party had 22 percent of the vote and the Nationalist Action Party 13 percent, more than the 10 percent of the vote required to enter parliament.
Economic Growth
Turkey's $740 billion economy grew at an annual rate of more than 5 percent during nine years of AKP rule, making it the world's 16th largest. Erdogan says he aims to lift Turkey into the top 10 by 2023, the republic's centenary. Inflation slowed to about 7 percent from 30 percent in the period, and the benchmark ISE-100 stock index more than quadrupled.
Turkiye Garanti Bankasi AS, the biggest Istanbul-listed company by market capitalization, surged more than tenfold and Turk Telekomunikasyon AS, the previously state-owned phone and Internet company, has gained 76 percent since an initial public offering in May 2008.
Erdogan's plan for a new constitution has been a central campaign issue. He argues for shifting from the current parliamentary system to a presidential one, in which he himself would be the leading candidate for the top job.
Referendum 'Better'
A charter approved by the public in a referendum "would feel much better for markets than if they do it by themselves by getting two-thirds of the seats," said Elisabeth Andreew, strategist at Nordea Bank AB in Copenhagen. Erdogan would need 367 votes in parliament to pass constitutional changes directly into law, and 330 to put them to a public vote.
On the economy, Erdogan's third-term challenges will include a widening trade gap that threatens an abrupt halt to Turkey's boom. The current account deficit ballooned to more than $60 billion in the 12 months through March, or about 8 percent of GDP, compared with a government forecast of $42 billion for the year.
Fitch Ratings, which ranks Turkey one step below investment grade at BB+, said in October that changes to the constitution after elections may justify an increase. Moody's Investors Service and Standard & Poor's both rate Turkey two levels below investment grade.
Lower Yields
Erdogan can point to improvements in Turkey's public finances that brought four S&P upgrades under his government. Treasury projections show that Turkey — once the International Monetary Fund's biggest borrower after tapping it for about $26 billion of loans following a 2001 banking crisis — will pay off its remaining $4.9 billion debt to the IMF by 2013.
That's a contrast with the European Union countries, including Turkey's neighbor Greece, that have been forced to take IMF loans in the last three years as their economies unraveled amid a debt crisis. Rebuffed in its efforts to join the EU, Turkey now borrows at 10-year yields lower than at least eight members of the 27-nation bloc.
In the Middle East, where popular revolts have swept away longtime leaders this year, Erdogan's political success and Turkey's economic progress have been cited as a model by opposition parties including Egypt's Muslim Brotherhood.
Erdogan, 57, served as mayor of Istanbul from 1994 until 1998, when he was jailed after being convicted for inciting hatred by reciting a religious poem. Erdogan says his party is committed to preserving Turkey's secular system while loosening restrictions on the practice of Islam, and his government has sought to lift the ban on headscarves at universities and make it easier for graduates of religious schools to enter universities, measures blocked by Turkey's courts.