Turkey:Third Syrian refugee camp built as numbers rise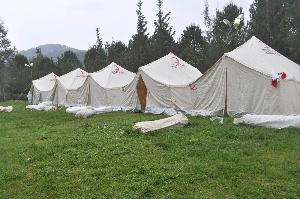 Just over the Turkish-Syrian border work is being completed on a third new centre for people fleeing the increasing violence in Syria.
The camp at Boynuyogun is in addition to the two existing locations, one at Altinozu, a former Turkish Tobacco Factory and the other in Yayladagi.
Nearly 3,000 people have so far crossed the border into Turkey and Turkish Prime Minister Recep Tayyip Erdogan said the country would welcome as many refugees as wanted to come.
Turkey shares a 520-mile border with Syria and has close ties with Syrian leader Bashar Assad but the worsening security situation has strained this relationship with the Turkish leader describing Assad's crackdown as 'savagery'.
Click Telegraph to see the video on the Syrian Refugee camps in Turkey