Lebanese MP: No cabinet anytime soon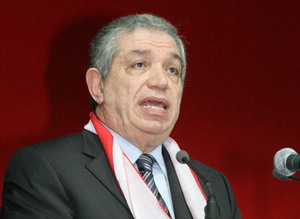 Despite the optimism exhibited after Jumblatt returned from Syria, Future bloc MP Samir al-Jisr said on Saturday that it does not appear that a new cabinet headed by Prime Minister-designate Najib Mikati will be formed soon.
There was an ambiance of optimism following MP Walid Jumblatt's return Thursday from his meeting with the embattled Syrian president Bashar al Assad. Many reported that he brought the green light from Syria for government formation. Some predicted that the cabinet could be announced as early as Saturday .
During an interview with Voice of Lebanon Jisr also said that Speaker Nabih Berri's call for convening the parliament on Wednesday is " an attempt to cover up the frustration" of his March 8 allies.
"If there was hope to form the cabinet, there wouldn't have been calls to hold a parliament session." He said.
Berri postponed last Wednesday's session due to lack of quorum
Local reports indicate that MP Michel Aoun continues to be the primary obstacle. He is reportedly stipulating that the president cannot name anyone from Kesrwan or Jubeil areas , but Suleiman is reportedly rejecting any such conditions on this issue .
Presidential sources told al-Liwaa newspaper in remarks published on Friday that "President Suleiman rejects preconditions set by any side on his choice of his representatives in the government."
"The president has made it perfectly clear that he would only name his ministers once Mikati presents him with the final 30-member cabinet lineup draft," al-Liwaa reported.
The Iranian and Syrian -backed Hezbollah brought down PM Saad Hariri's government on January 12 over the Special Tribunal for Lebanon's (STL) imminent indictment which is widely expected to implicate Hezbollah members in the assassination of former PM Rafik Hariri in 2005
Mikati was appointed in January as the PM designate with the backing of the Hezbollah March 8 alliance and MPs Walid Jumblatt and Mohammad Safadi . March 14 leaders have repeatedly said that intimidation from Hezbollah's weapons helped secure the parliamentary majority for Mikati's nomination.