Karami: Mikati, not Hezbollah should name the sixth Sunni minister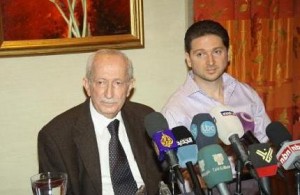 Tripoli MP Ahmad Karami told LBC television on Saturday that Prime Minister-designate Najib Mikati should be the person responsible for naming the sixth Sunni minister in the upcoming cabinet, and not Hezbollah.
"Hezbollah can say whatever it wants, but regarding this seat, let them allow us because the decision is that of the PM-designate," Karami , who is allied with Mikati in the Tripoli district said.
Hezbollah has reportedly been insisting on naming Faisal Karami, who is the son of former PM Omar Karami to be the sixth Sunni minister in Mikati's cabinet, but the PM designate has been opposed to the idea
Photo: Faisal Karami ( R) with his father former PM Omar Karami a staunch pro-Syrian Sunni figure whose government was brought down in 2005 amidst mass protests against Syria's occupation of the country following former PM Rafik Hariri's assassination.