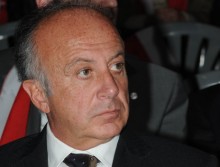 Future Movement vice-president Antoine Andraos responded on Saturday to Free patriotic Movement leader MP Michel Aoun's accusation, by branding Aoun's accusations as sectarian and dangerous.
"This is a dangerous accusation ; it is the first time that the Future Movement has been directly accused, this is a sectarian [accusation]," Andraos told Future News television.
Aoun on Friday evening accused Lebanon's Future Movement of acting against Syria.
"There are members of Lebanese movements whose statements confirm that they are against the regime in Syria," Aoun told the Syria's Duniya television channel.
Andraos also said that if any member of his party is harmed, then Aoun should be held responsible and accused of being behind it
"Aoun's accusation that people are interfering in Syria's affairs is unacceptable," Andraos added.
Aoun is currently allied with Syria and Hezbollah , but in a cable dated March 31, 2005 the FPM leader was quoted as saying that the collapse of the Syrian regime is "inevitable " adding that the security institutions in Lebanon should be restructured because they are a copycat of Syrian apparatuses.
The nearly 50-year rule of Syria's Assad family is being challenged by rising numbers of anti government protesters, and President Bashar al Assad's military troops are unhesitatingly responding with live ammunition and teargas. Over 1300 Syrian civilians have reportedly been killed since the uprising began on March 15.