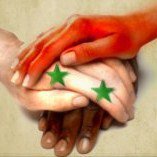 Security sources of ​​Wadi Khaled a village near the Lebanese border with Syria, told the Asharq al Awsat newspaper that "the two Syrians were able to escape from their military unit stationed in the town of Arida Syrian, by crossing the al Kabir river. " Soldier Hussein Mustafa Muhammad, from city of Dara, was able to reach the village of Wadi Khaled, but he was shot in the back by the Syrians who fired at them , while his colleague was killed and his body remained in the river for hours before it was taken by the Syrian army. "
The residents of Wadi Khaled appealed to the Lebanese army to deploy in the area without any further delay because the security situation has become unbearable.
March 14 MP Mohammed Kabbara commented on what is happening in Syria and said in a statement:
"What's next? Should we just wait for the Syrian Security forces to enter our country to hunt down the innocent Syrian people and just watch? Should we continue to sit down and watch the Syrian people being slaughtered?"
He added: "When the Syrian people in Hama were slaughtered , we were under occupation by the Assad army but now, we are free and we refuse to remain idle and just watch the Syrian people being slaughtered, we refuse to remain neutral on this issue . We are not neutral. We are with the Syrian people !
This error message is only visible to WordPress admins
Error: No connected account.
Please go to the Instagram Feed settings page to connect an account.