Syrian refugees flee to Turkey and Lebanon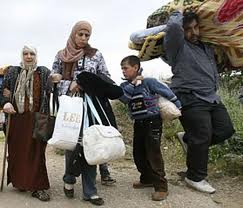 With hundreds of Syrians fleeing to Turkey and thousands crossing into Lebanon, citizens from the country that normally serves as a regional host for its unstable neighbors now needs the favor returned.
Some 122 Syrians entered Turkey between June 7 and June 8, leaving the northwestern town of Jisr al-Shughour, where state news says "armed organizations" have killed 120 civilians and soldiers and where rights groups say state troops have killed roughly 100 civilians.
Syria's Interior Minister Ibrahim Shaar has said authorities will "respond firmly to armed attacks" and there are reports that military and tanks have entered the city to crack down on the uprising.
Marches with thousands of demonstrators continue throughout Syria, despite reform pledges by President Bashar al-Assad. Rights groups say more than 1,200 people have been killed by security forces since the protests began in mid-March.
Those fleeing Jisr al-Shughour to Turkey are living in tents set up by the Red Crescent in the Yayladagi district of southern Turkey's Hatay province, Turkey's state-run Anatolian news agency reported. A Turkish foreign ministry official told the agency that at least 420 Syrians have so far sought refuge in Turkey.
In response to the influx of refugees from Jisr al-Shughour, Turkish Prime Minister Tayyip Erdogan on Wednesday committed to allowing people to enter, saying: "It is out of the question for Turkey to close its doors to refugees coming from Syria."
But it remains unclear who will accommodate the Syrians — not to mention the million-plus refugees from Iraq and elsewhere living in Syria — if the violence continues to escalate and populations are forced to flee en masse.
"Look around us. Where is there to go?" a lawyer for the United Nations refugee agency (UNHCR) in Damascus said, listing off Syria's neighbors. "Lebanon's too small, Iraq's still a mess, Israel's our enemy and Turkey doesn't really want us."
Lebanon has shown reluctance in the past towards accepting refugees — it hosts only 20,000 to 30,000 Iraqi refugees, for instance, compared to the 1.2 million to 1.4 million living in Syria, according to a 2009 UNHCR report, which described Lebanon as "less generous than its Syrian and Jordanian counterparts regarding admission [of Iraqi refugees]."
The lawyer in Damascus said he expected this attitude to intensify if more Syrians begin seeking refuge in Lebanon, which is smaller than the state of Rhode Island and itself a longtime site of conflict.
The aid group Islamic Relief estimated that 6,000 Syrians have fled into Lebanon since April, but, with encouragement from Lebanese authorities, 50 percent have already returned to Syria, according to IRIN, the U.N.'s news agency.
Nevertheless refugees living in Syria, though numerous, have certain disadvantages that could put them at greater risk for another displacement, according to UNHCR.
"Although Syria's admissions policies have traditionally been generous — particularly for Arab nationals — people in refugee-like situations are generally subject to the restrictive legislation applicable to foreigners, diminishing the likelihood that their basic rights are upheld," UNHCR Associate Resettlement Officer in Damascus Anne Evans Barnes wrote in a 2009 report.
A 1980 Interior Ministry decree allowed all Arab nationals entry without a visa, Evans reported. But this was amended in 2007 for Iraqis, who are now required to obtain visas at the border, the report said. Further, they are barred from employment, forcing them to rely on savings or work in the informal economy.
However, those who enter the country illegally, including from countries as far-flung as Afghanistan and Somalia, are usually granted refugee status, the lawyer in Damascus said, with the Syrian government "looking the other way" and ignoring their presence.
Such circumstances — in which large numbers of unofficial refugees reside in the country — means that refugee populations are even more vulnerable to displacement than Syrians, who are also in a precarious situation.
There is also potential for increased strife with Syria's other vulnerable displaced population — the half million Palestinians who live there, according to U.N. Relief and Works Agency (UNRWA), the U.N. agency tasked with providing assistance to Palestinians. In mid-May, it suspended some of its operations in Syria, "affecting up to 50,000 registered refugees and put[ting] at risk some of the most vulnerable who rely on UNRWA services," an agency press release said.
For now, most people living in Syria — especially those outside the major flashpoints — are waiting to see how the situation develops before they consider leaving the country.
"Our whole family is here, we haven't even discussed it yet. This is our home," a graduate student in Damascus said.