Rifi, US envoy discuss ISF training programs which US is funding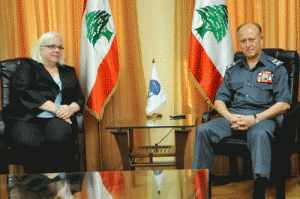 The Director General of Internal Security Forces Major General Ashraf Rifi received at his office this afternoon, the Ambassador of the United States in Lebanon, Maura Connolly, in the presence of the commander of the mobile forces Brigadier General Robert Jabbour, Chief of Staff Brigadier General Joseph Hajal , commander of the Institute of Internal Security Forces Brigadier General Ibrahim Basbous, head of the Training Division General Mounir Chaaban, and First Lieutenant Tariq Mkanna .
During the meeting they discussed the training programs for Lebanese internal security force which are funded by the U.S. They also discussed future training programs that will help build community oriented internal security forces also programs that will improve the expertise and knowledge level of the forces .