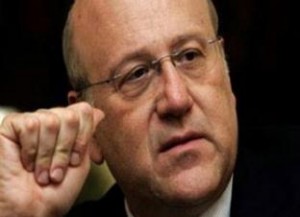 Lebanon PM designate Najib Mikati told reporters at the parliament that he had a closed-door meeting with Free Patriotic Movement leader MP Michel Aoun and agreed on the next steps needed to facilitate the cabinet formation.
Aoun has been accusing Mikati of procrastination in the formation of the government. He is also insisting on not handing Mikati the list of his candidates for the various portfolios that are part of his share until Mikati confirms to him that an agreement reached previously between the two sides is now active.
"The meeting with General Aoun was an ice-breaker," Mikati said.
Mikati also told reporters that he visited Berri out of his keenness to see the parliament as a "symbol for all Lebanese."
"Parliament is the home of all Lebanese and their permanent shelter," he said, stressing that the legislature does not belong to one sect.
Mikati said he "expressed his hope to Speaker Nabih Berri that parliament would remain an entity that embraces everyone."
As was expected Berri failed in his efforts to hold a parliamentary session on Wednesday due to lack of quorum and postponed it to June 15 . Only 58 MPs attended the session .
For the quorum to be met at least 65 MPs should attend ( half the 128 member parliament plus one )
Before the planned session, a meeting was held at Berri's office which was attended by , Mikati, MPs Michel Aoun, Walid Jumblatt, Suleiman Franjieh, Mohammed Raad, Talal Arslan and Assaad Hardan.