Syrian ambassador to France resigns in protest against crackdown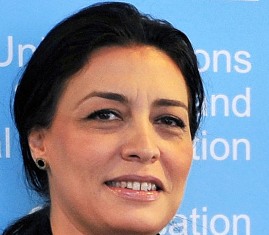 Syria's ambassador to France resigned on Tuesday in protest at the Syrian government's repression of protests.
Lamia Chakkour announced her resignation on France 24 television. France 24 said she denounced the violence in Syria and said she no longer wanted to represent Damascus in France.
The Syrian embassy confirmed Chakkour had left her post and said she would make no further comment for the time being.
France is pushing for the rapid adoption of a U.N. Security Council resolution condemning Syria over a crackdown on protesters that has killed scores of civilians, even though Russia says it would veto any intervention against Syria.
Update:  Syrian State owned TV denied that Chakkour has resigned her post.  She was quoted as saying  that she will file lawsuits against those who fabricated the story.
Note to readers: The credibility of the government owned  media in Syria is questionable  .  We consider France 24 much more reliable as a source of information. We will continue to update this report as needed
The Syrian government has severely restricted the media and expelled foreign reporters, making it nearly impossible to independently verify what is happening in the country.
Update 2- Syrian Ambassador to Lebanon Ali Abdel Karim Ali told National News Agency on Tuesday that reports about the resignation of Syrian Ambassador to France Lamia Shakkour are not true.
Shakkour met with foreign envoys in Syria and informed them about the details of the situation in Syria, Ali also said.
Update 3: Watch live the resignation of Ambassador Chakour on FRANCE 24 . Now we know who is telling the truth