Aoun: The MOU with Hezbollah is against Israel not Sunnis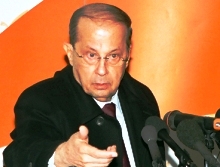 Free Patriotic Movement leader MP Michel Aoun said Tuesday evening during an FPM event in Jbeil that the Memorandum of Understanding with Hezbollah was considered a Maronite-Shiite agreement against the Sunnis, adding that the agreement with Hezbollah was against Israel and not against the Sunnis.
The pyramid of the state has fallen because the constitution is not respected, he said.
"Authority has lost all moral standards…This is what we are fighting against."
Aoun also criticized March 14 parties for accepting the parliament's decision to grant amnesty to Lebanese Forces leader Samir Geagea in 2005 when the cabinet had already resigned. They are currently saying that a parliament session amid cabinet vacuum would be unconstitutional.
Aoun also said that US Ambassador to Lebanon Maura Connelly "visits employees, and issues threats on how the next cabinet should be formed."
Aoun tried to defend Syria . Commenting on the uprising he said Syria is "targeted."
"All those who are not obedient are targeted. It is true that the party which is submissive to the US has become weak, but it is still active," Aoun said in a possible reference to the March 14 coalition.
" We are targeted by Israel. I do not believe that the US and Israel want democracy in the Middle east." He said
Aoun also said" Lebanon is targeted because of naturalization of Palestinians . They tried to target us in 2006 and when they failed they decided to target Syria ."
Activists say that over 1300 Syrian protesters have been killed so far by the Syrian security forces since the uprising started 11 weeks ago.
Speaker Nabih Berri called for a parliament session on June 8 but it appears that the meeting will not take place due to lack of quorum . PM Designate Nagib Mikati's bloc and MP Walid Jumblatt's bloc decided to boycott the session. The maximum number of MPs that will attend the session is projected to be 58 out of 128 member parliament
Prime Minister-designate Najib Mikati, who was appointed to the premiership in January with the backing of the Hezbollah-led March 8 coalition, has been working since January to form a government.
Geagea was released from prison in 2005 after parliament voted for an amnesty law.
Many analysts in Lebanon blame Aoun's MOU with Hezbollah for Lebanon's problems; Most of the problems in Lebanon started after the MOU: The 2006 war between Hezbollah and Israel that devastated the whole country , the 2006 -2008 occupation of downtown Beirut by Hezbollah and its allies to bring down the government , the May 2008 occupation of west Beirut by Hezbollah against the Sunnis and the coup against the Hariri government in January 2011. The analysts claim that Aoun who was dreaming of using Hezbollah to become the president of Lebanon was used by Hezbollah as a Christian cover.