March 14: Hezbollah should come back to Lebanon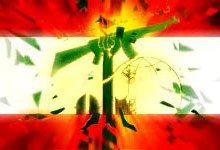 March 14 General Secretariat Coordinator Fares Soueid told Voice of Lebanon radio on Saturday that Hezbollah is aware that its project for Lebanon is over. A possible reference to Hezbollah's aim of using its arms to impose an Islamic state of Lebanon.
"Hezbollah is aware day after day that its project is over and that it cannot keep on imposing its conditions on the Lebanese people," he said as a result of the the uprisings in the middle east and Iran's reduced influence because of the the revolt in Syria
" Hezbollah is obliged to come back to Lebanon under the conditions of the Lebanese people." He stressed
The March 14 official said that his coalition is aware of the importance of reviving dialogue under the rule that everyone should support the state and its exclusive right to bear arms.
"President Michel Suleiman is the one authorized to call for national dialogue and unite the Lebanese people."
The Iranian and Syrian backed Hezbollah brought down PM Saad Hariri's government on January 12 over the Special Tribunal for Lebanon's (STL) imminent indictment which is widely expected to implicate Hezbollah members in the assassination of former PM Rafik Hariri in 2005.
Lebanon has been run by a caretaker government since last January. Mikati was appointed in January as the PM designate with the backing of the Hezbollah led-March 8 alliance, MPs Jumblatt and Mohammad Safadi . March 14 leaders have repeatedly said that intimidation from Hezbollah's weapons helped secure the parliamentary majority for Mikati's nomination.
According to analysts Hezbollah has been hiding behind MP Michel Aoun's demands for the ministries of Interior , Communications and justice in order to have full control of Lebanon's security , but president Michel Suleiman is trying to make sure that the ministry of interior goes to a centrist