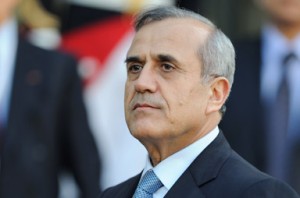 Baabda sources have informed al Mustaqbal newspaper that president Michel Suleiman is approaching the issue of government formation on the following basis:
1- The importance of not forming a confrontational cabinet, or a one color cabinet
2- Wants to keep the ministries of interior and defense away from politicization due to the domestic and international negative implications.
The sources said the discussions on Thursday between the president and PM designate Nagib Mikati revolved around these two conditions in addition to the respect of the spirit of the constitution and the Doha accord. The president implied that he does not want to be an obstacle against the government formation. An agreement on the above basis has already been reached on the ministry of interior and discussions are ongoing on allocating another Maronite minister for the president .
The sources have also revealed that Mikati did not carry with him on Friday a draft cabinet lineup but he put the president in the picture on some suggested names for some of the portfolios noting that the final lineup will still require further consultations.
The Iranian and Syrian backed Hezbollah brought down PM Saad Hariri's government on January 12 over the Special Tribunal for Lebanon's (STL) imminent indictment which is widely expected to implicate Hezbollah members in the assassination of former PM Rafik Hariri in 2005.
Lebanon has been run by a caretaker government since last January. Mikati was appointed in January as the PM designate with the backing of the Hezbollah led-March 8 alliance, MPs Jumblatt and Mohammad Safadi . March 14 leaders have repeatedly said that intimidation from Hezbollah's weapons helped secure the parliamentary majority for Mikati's nomination.
A dispute over the Interior Ministry portfolio between President Michel Suleiman and MP Michel Aoun was blamed for the delay in the formation of a new cabinet headed by Mikati.
According to analysts Hezbollah is hiding behind Aoun's demands for the ministries of Interior , Communications and justice in order to have full control of Lebanon's security when STL indictments are issued and made public.
During his last speech Hezbollah chief hinted that he will be cooperating over the cabinet formation
According to a report by al Hayat newspaper a recent meeting between Saudi and Syrian representatives may have paved the way for the formation of the cabinet.