Aswad: Mikati will not be able to form a cabinet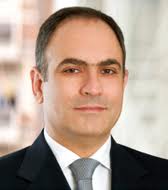 Free patriotic Movement MP Ziad Aswad told Akhbar al-Yawm news agency on Saturday :"I said yesterday and I say today and will say tomorrow that no government will be formed in Lebanon "adding that "there is not much time left for Prime Minister-designate Najib Mikati ."
Aswad said Mikati is not on the same wave length as the coalition that brought down the government of caretaker PM Saad Hariri . Aswad went as far as accusing Mikati of being committed to the March 14 alliance
"Mikati is currently not able of forming a cabinet. He is not in the political path that toppled Hariri," Aswad said.
"The PM-designate will not be able to overcome the pressures he is being subjected to ",  The Jezzine MP  said
Aswad also said that there is no longer a reason for Mikati and President Michel Sleiman to "make up any excuses that justify the obstruction of cabinet formation or hold a certain person responsible for the delay of cabinet formation. A possible reference to his boss MP Michel Aoun.
In response to a question about renewal of the term of central Bank governor Riad Salameh , he said: "I cannot think of anyone who could replace Salameh , but he is not at equal distance from everyone "
The Iranian and Syrian backed Hezbollah brought down PM Saad Hariri's government on January 12 over the Special Tribunal for Lebanon's (STL) imminent indictment which is widely expected to implicate Hezbollah members in the assassination of former PM Rafik Hariri in 2005.
Lebanon has been run by a caretaker government since last January. Mikati was appointed in January as the PM designate with the backing of the Hezbollah led-March 8 alliance, MPs Jumblatt and Mohammad Safadi . March 14 leaders have repeatedly said that intimidation from Hezbollah's weapons helped secure the parliamentary majority for Mikati's nomination.
According to analysts Hezbollah has been hiding behind MP Michel Aoun's demands for the ministries of Interior , Communications and justice in order to have full control of Lebanon's security , but president Michel Suleiman is trying to make sure that the ministry of interior goes to a centrist