Mikati, allies to boycott Berri's parliament session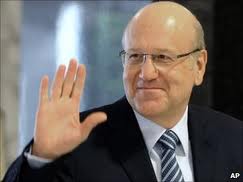 Prime minister-designate Najib Mikati , and his two allies MPs Mohammad Safadi, Ahmad Karami have decided to boycott the parliament session that Speaker Nabih Berri called for next week, National News Agency reported on Friday.
The MPs' decision is based on their conviction that divisions must not be widened between the Lebanese people, the NNA also said, adding that their decision aims "to maintain the role of institutions."
This comes after LBC reported that MP Walid Jumblatt and his bloc decided to boycott the parliamentary session
Mikati, Safadi and Karami voiced the importance of joining efforts to speed up cabinet formation.
Speaker Nabih Berri called for the session in order to bypass the caretaker cabinet, despite strong opposition by some parties.
Session condemned
Deputy Speaker Farid Makari and some members of the Parliament Bureau Committee including MP Ahmed Fatfat, Marwan Hamadeh, Antoine Zahra, and Serge Toursakissian condemned on Thursday Berri's decision to hold a parliament session on June 8, labeling it as "a blow to democratic parliamentary practices in Lebanon."
"His decision violates the privileges of the committee and parliament's internal system in that he devised next week's schedule by himself, " they said in a statement.
"The committee therefore believes that the schedule that was distributed today at parliament has no legal grounds," the statement added.
"Such practices fuel our conviction that the June 8 session is a violation of parliamentary norms and the Lebanese constitution," the statement said.