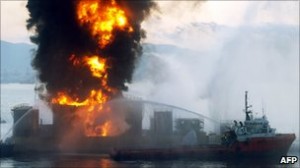 Twelve cruise ship passengers have been injured in an explosion and fire at the port of the British territory of Gibraltar, its government says.
The guests, who received minor injuries, were treated on board the Independence of the Seas, the cruise company Royal Caribbean said.
The blast took place at the territory's main fuel storage facility on the northern part of the harbour.
Police are investigating the cause of the incident.
The explosion sent flames several metres high into the air and dense black smoke billowing across the port.
Police said the lid of a fuel tank was blown off.
Two Spanish welders working on the tank were injured, including one who was in critical condition in a burns unit at a hospital, Radio Gibraltar said.
'Serious incident'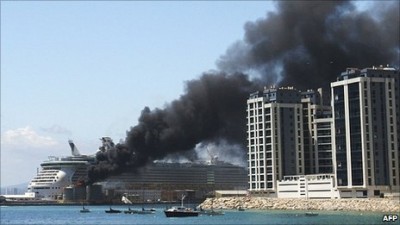 The Independence of the Seas was moored close by, and was forced to pull out to sea for safety, according to its owners.
Eleven passengers were slightly injured, while another suffered a fractured arm, the Gibraltar government said.
The ship arrived in Gibraltar Tuesday morning on a 14-night itinerary that departed Southampton, England on Saturday.
Gibraltar's Chief Minister Peter Caruana the blast was probably caused by a spark from welding operations, although police were not ruling out any possibility,
He described it as a serious incident but said there was "no cause for concern".
"Once it was established that there were welding operations going on, on top of the very tank at the time it exploded, [that] makes that a frontrunner for a likely explanation, but all possibilities are being kept open," he told Radio Gibraltar.
The fire at the depot continued late into Tuesday night, with Radio Gibraltar reporting more explosions were heard.
Police said the possibility of adjacent tanks overheating and exploding could not be ruled out.
Gibraltar is a 6.5 sq km (2.6 sq mile) British territory of around 30,000 people off the tip of southern Spain.