Hamadeh: Nahhas broke the law, Ogero was right in seeking protection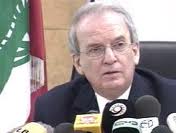 The parliamentary telecommunications committee headed by MP Hassan Fadlallah held a meeting on Monday to discuss the Adliyeh incident .
Reports have revealed that the reason behind resigned Minister of Communication Charbel Nahhas' attempt to take over the telecom network that was on the second floor of the Telecommunications Ministry was because of Syria.
There were rumors that the network which was donated to Lebanon by the Chinese was being used by the opposition in Syria, but according to experts the network has not yet been put into operation. The experts also believe that even if the equipment was operational it could not be of help to the Syrian opposition in any way.
Nahhas is a member of Free Patriotic Movement which is closely associated with the Iranian and Syrian backed Hezbollah militants. There were reports that Hezbollah gunmen accompanied Nahhas when he tried to take over the network.
Hamadeh: Ogero was right
Former Minister for Communications and MP Marwan Hamadeh who attended the parliamentary telecommunications committee meeting on Monday said in an interview with al Hayat newspaper that the intervention by Nahhas was unconstitutional and against the and laws of the land.
Hamadeh said it is true that Article 66 of the Constitution gives the Minister the authority to run the ministry , but this should be done in accordance with the laws and regulations " . Hamaded explained that "the request of Nahas to dismantle the equipment donated by the Chinese company" Huawei ", and taking it away from Ogero to be handed over to "MTC" or "Mick" company , contradicted several laws, the most important of which is law 431 for communications, which authorizes "Ogero" to set up a Lebanese telecom network as a third cellular network using the Chinese donated equipment and this was authorized by the outgoing cabinet under decree number 146 / 2007.
Hamadeh said that Ogero had the right to seek protection for the Telecommunications Building in Adliyeh as well as the "third mobile network" that was donated by the Chinese
"The Chinese donation was issued by the cabinet and is managed by Ogero, which has the right to ask for protection for its building."