Germany's Merkel lands in India after Iran blocks plane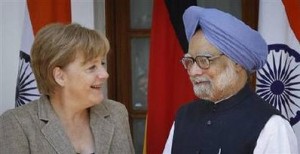 Iran briefly refused to allow a plane carrying German Chancellor Angela Merkel to India to enter its airspace, forcing the government aircraft to circle over Turkey for almost two hours before giving clearance.
Merkel, the latest in a series of world leaders to come to India seeking to do business with Asia's third largest economy, landed safely, but Foreign Minister Guido Westerwelle summoned Iran´s ambassador to Germany to his office in Berlin following the incident.
"I'm very glad I arrived here safely in India," Merkel told a news conference jointly held with Indian Prime Minister Manmohan Singh.
"We have never experienced anything like this before," Merkel's spokesman Steffen Siebert added.
Germany, along with the United States and other Western powers have been at odds with Iran over its disputed nuclear programme. The European Union last week significantly extended its sanctions against Iran in a sign of mounting frustration at a lack of progress in nuclear talks with Tehran. [ID:nLDE74M0RS]
A Reuters journalist travelling with Merkel said Iran withdrew the rights, which had been granted previously, just as the plane entered Iranian air space.
It was unclear exactly why Iran did not allow the Airbus aircraft to fly through its airspace.
"We will emphasize quite clearly that such a violation of international customs will not be accepted at all," Westerwelle said. "That shows a disrespect for Germany that we will not accept."
After more than an hour of negotiations, involving Turkish authorities and Germany's foreign ministry, the plane was allowed to resume its flight path over Iran to New Delhi.
The incident comes as Iranian officials meet their Indian counterparts for a second day in New Delhi to try to resolve an impasse over payments for oil sales worth about $12 billion a year. [ID:nDEB000162]
Earlier this year, Germany allowed India to pay for the oil via Hamburg-based EIH bank which handles international trade for Iranian companies. But India halted that conduit in April after discussions with Merkel, and EIH has since been put under EU sanctions.
LOBBYING EUROFIGHTER
Merkel is on her second visit to India since 2007. Germany is India's largest trading partner in Europe, with bilateral trade on track to rise to 20 billion euros by 2012 from 15.4 billion euros in 2010.
Merkel joins a growing list of leaders, hailing from the United States to France to China, who are eyeing to cash in on India's 8 percent economic growth and a desire to expand its defence system.
She pressed the case of the Eurofighter Typhoon that was shortlisted for an $11 billion fighter jet deal as part of India's planned splurge to revamp its ageing defence gear.
"We are convinced that we have the best product on offer, as our competitors are too. We will certainly not exert any kind of influence on this process. We wish this to be a very transparent process and a smooth one," Merkel said.
India, expected to spend $50 billion over the next five years to upgrade its military, rejected U.S. firms for the fighter contract, in a move that could sour its relationship with Washington while broadening ties with other regions.
Export heavyweight Germany also has a big stake in the success of the free trade deal between India and the European Union, which both sides say will unlock billions of dollars of new export opportunities.
Merkel said German companies hopes to play a role in developing India's renewable energy sector. No major contracts were signed during Merkel's visit. Reuters