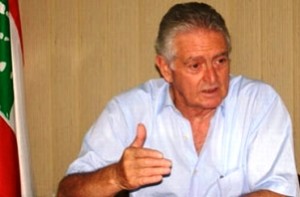 National Liberal Party leader Dori Chamoun said on Tuesday that resigned Telecommunications Minister Charbel Nahhas is not "a normal person."
"Nahhas is not a normal person, he was our neighbor and wasn't normal," he told Future News television.
"Nahhas wants to break into the intelligence device of the state, but what about Hezbollah's device?" Chamoun asked.
Chamoun also said that President Michel Suleiman made a mistake by getting involved in the telecommunications controversy.
"The president made a mistake, and this is not the first time; he should have left this issue to the judiciary," he added.
The NLP leader said that to resolve the current problems, the constitution should be amended. He also said that Lebanon should become a neutral country, which, he added, does not want to engage in warfare.
Chamoun also said that president Michel Suleiman and Prime Minister-designate Najib Mikati are responsible for putting an end to "the comedy" that is the delay in cabinet formation.
"Mikati thought Syria would help him, but Syria is busy with its internal situation now." He said
Reports have revealed that the reason behind Nahhas' attempt to take over the telecom network that was on the second floor of the Telecommunications Ministry was because of Syria.
There were rumors that the network which was donated to Lebanon by the Chinese was being used by the opposition in Syria, but according to experts the network has not yet been put into operation. The experts also believe that even if the equipment was operational it could not be of help to the Syrian opposition in any way.
Nahhas is a member of Free Patriotic Movement which is closely associated with the Iranian and Syrian backed Hezbollah militants. There were reports that Hezbollah gunmen accompanied Nahhas when he tried to take over the network.
Nahhas said in a press conference last Thursday that Internal Security Forces personnel had illegally occupied a building owned by his ministry in Adliyeh, but former minister Marwan Hamadeh said Nahhas broke the law and Ogero was right in seeking the protection of the Internal Security Forces.
Hamadeh said it is true that Article 66 of the Constitution gives the Minister the authority to run the ministry , but this should be done in accordance with the laws and regulations " . Hamaded explained that "the request of Nahas to dismantle the equipment donated by the Chinese company" Huawei ", and taking it away from Ogero to be handed over to "MTC" or "Mick" company , contradicted several laws, the most important of which is law 431 for communications, which authorizes "Ogero" to set up a Lebanese telecom network as a third cellular network using the Chinese donated equipment and this was authorized by the outgoing cabinet under decree number 146 / 2007
This error message is only visible to WordPress admins
Error: No connected account.
Please go to the Instagram Feed settings page to connect an account.