Tank-backed troops kill 8 Syrian protesters in rural Homs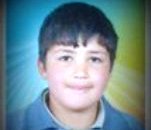 At least eight civilians were killed when Syrian forces attacked towns and villages near the city of Homs, which have seen growing pro-democracy demonstrations, the Syrian Observatory for Human Rights said.
The Observatory said on Sunday it had the names of the eight, who were killed in and around the towns of Talbiseh and Rastan in rural Homs, where tank-backed troops and security forces deployed in a widened military campaign to crush dissent against President Bashar al-Assad, with protests entering their 11th week.
Hamza al Khateeb
The latest demonstrations were galvanized by revelations that authorities had apparently tortured and murdered a 13-year-old boy last month near the protest flashpoint of Daraa.
Hamza al Khateeb a 13 years old boy from "Al Jeezah" or "Al Giza" village in Daraa province marched with his family in a rally to break the siege of the city of Daraa last month . He was detained among hundreds of Syrian during the massacre of Siada.
After weeks of absence Hamza was returned to his family as a dead body on Saturday with scars testifying to the torture….bruises , burns to the feet, elbows, face and knees and his genitals removed. Family members said the wounds are consistent with those seen of victims of electric shock devices and cable whippings. The child's eyes are also swollen and black, and both arms showed identical bullet wounds.
"People are really furious about what happened to Hamza and it is another indication that the secret police and authorities are criminals that cannot be trusted to carry out any reforms," a source in Daraa told Al Jazeera. "It was the people of Daraa who started this revolution and the people of Daraa will not stop. Despite their anger, people are still insisting on facing this barbarianism with peaceful protests. Despite the tears in our eyes we are facing them with smiles on our faces, because we know we are right."
Al Jazeera reported that after receiving his body, Khatib's family was visited by Syrian secret police, who arrested the boy's father. The boy's mother said officers ordered her husband to say the boy was killed by armed Salafists, or ultra-conservative Muslims, whom Assad has claimed as being behind the unrest.
She said the secret police had warned her not to speak to the press, threatening, "You know what would happen if we heard you had spoken to the media."
Reuters, Ya Libnan