Caretaker Interior Minister Ziad Baroud quits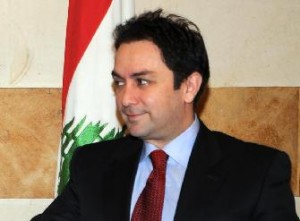 Caretaker Interior Minister Ziad Baroud decided on Thursday to quit adding that he has witnessed the breakdown of the Lebanese state. He stressed that he took the decision due to his keenness on implementing the law, which is totally in line with President Suleiman's stances and keenness on state institutions."
"Since I no longer want to be a false witness or a caretaker minister with the duty to sign the ministry's mail, which something an acting minister can do and since I don't want to violate the constitution despite any political stance, I decided to free myself from my duties ," he said during a press conference at his ministry.
Baroud added that he witnessed, along with the Lebanese people, the breakdown of the Lebanese state.
"I say to the Lebanese that taking them hostage is no longer acceptable," Baroud said.
"I have come to realize in the past few days that the problem in Lebanon is much greater than it appears to be," he stated.
The interior minister also said that he tried for three years to serve the country, but added that there is no longer a reason to do so and that the constitution is being trespassed.
He said during the press conference in response to this morning's incidents at one of the Telecommunications Ministry buildings in the Adlieh district: "It appears to me that reason in Lebanon has taken a holiday and the law has become a secondary issue."
Baroud's decision came after security forces prevented Resigned Telecommunications Minister Charbel Nahhas, several directors at the ministry, and a technical team from entering one of the ministry's buildings at the Adlieh area to dismantle a mobile phone station belonging to OGERO Telecom..
The minister asserted that he has long refused to take sides in the ongoing political divide in Lebanon, adding that the political camp that caretaker resigned Minister Nahhas is affiliated with has not spared him its criticism, while he has no dispute with the other political camp.
Dr. Ziad Ajouz leader of the Free Nasserite Movement described Charbel's plan to dismantle the Ogero telecom station as a militia action. Ajouz said Charbel was accompanied by Hezbollah gunmen to dismantle the OGERO station that is being always guarded by the internal security forces. Ajouz said that Chrbel got the password yesterday from Hezbollah chief Sayyed Hassan Nasrallah