5 injured in explsion targeting UNIFIL in south Lebanon, update 2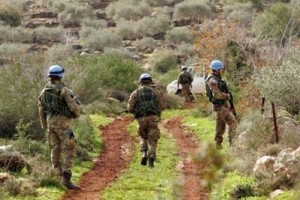 Explosion targeting UNIFIL vehicle heard at Saida's entrance near the Awali River in South Lebanon Future TV reported.
Al-Jazeera reported later that Five UNIFIL members were injured in the explosion .
Italian daily Corriere della Sera reported that two of Italy's UNIFIL soldiers were killed in Saida explosion
Photo: Italian peacekeeping troops from the United Nations Interim Force in Lebanon (UNIFIL) patrol in southern Lebanon . Two Italian peacekeeper were killed and three were in an explosion targeting a UN patrol in south Lebanon May 27, 2011 AFP Photo
Update: None was killed in the attack. Six were reportedly injured , one seriously according to a new report by UNIFIL
"Five are moderately wounded, and one is seriously wounded. They are in a hospital in Sidon," UNIFIL spokesman Andrea Tenenti told Reuters.
UNIFIL said the bomb had been aimed at a logistics convoy
The attack prompted Rome to declare it would reduce its contingent, which is the largest in UNIFIL with nearly 1,700 soldiers. UNIFIL's previous commander was also Italian.
The force of the explosion tore through part of a highway concrete barrier, smashed the white jeep's windows and left it riddled with shrapnel, a Reuters picture showed. The driver's face, hands and stomach were drenched in blood.
Other pictures showed two peacekeepers with bloodied faces and dazed expressions after they left the destroyed vehicle in Rmaileh village, about 35 km south of Beirut, and near Ain el-Hilweh, a Palestinian refugee camp where Islamist militant groups are known to reside.
UN SECRETARY GENERAL CONDEMNS ATTACK
U.N. Secretary General Ban Ki-moon condemned the attack, which happened on the U.N.'s International Day of United Nations Peacekeepers, when peacekeepers killed in missions across the world are commemorated by their colleagues.
"The United Nations will work closely together with the Lebanese authorities to have a full and swift investigation on the attack to bring the perpetrators to justice," Ban said.
The last bomb attack against UNIFIL was in January 2008 when two Irish peacekeepers were slightly wounded when their vehicle hit a roadside bomb near the area of Friday's attack. A car bomb killed six U.N. peacekeepers in June 2007.
UNIFIL has about 12,000 troops and naval personnel in the country after its expansion under U.N. Security Council resolution 1701 that halted the 2006 Israel-Hezbollah war in southern Lebanon.
UNIFIL operates along 15,000 Lebanese army troops who are deployed in the south to keep peace near the frontier with Israel and make sure it is free of weapons transfers in an area that is a stronghold of Hezbollah guerrillas.
The border area has stayed largely quiet with the exception of occasional flare-ups.