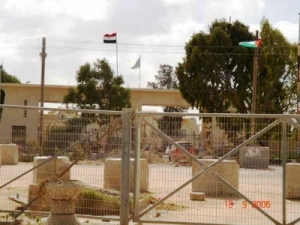 Egypt will open its border crossing with the Gaza Strip permanently this weekend, the government announced Wednesday, suggesting the country's military rulers are being swayed by growing anti-Israeli sentiment here.
Opening the Rafah crossing, the only official entry point outside Israel into the Palestinian territory, would ease the blockade imposed after the militant group Hamas took control of the strip in 2007.
A report by Egypt's state-run Middle East News Agency said the move was being adopted to "end the status of the Palestinian division and achieve national reconciliation."
The report said the border would reopen Saturday but provided no other details.
Israel warned that reopening the crossing could allow Hamas to build up its arsenal and create a dangerous situation. A government spokesman urged Egypt to continue blocking arms shipments to Hamas.
Bowing to Israeli concerns, the Egyptian government has kept the crossing closed or partially closed for much of the past five years. Egypt has opened the crossing periodically for a few days at a time in the past year or so, mostly for medical cases and students.
Egypt's interim military leaders have been under pressure to open the border to ease the movement of people, food and humanitarian aid to the strip.
Israel opposes an open border, fearing that Hamas fighters could use it to smuggle in rockets and other weapons for attacks against Israel. Up to now, Hamas has used smuggling tunnels, rather than the border crossing, to bring weapons into Gaza.
Egypt is one of the few Arab states that maintain formal diplomatic ties with Israel, a relationship Mubarak wrestled with during his three decades in power.
The two countries fought a brutal war in 1973 that many Egyptians still remember bitterly.
In recent weeks, Egyptian protesters have demonstrated outside the Israeli Embassy in Cairo to protest attacks on the Gaza Strip and Israeli policies.
Hundreds of demonstrators were wounded earlier this month when Egyptian riot police fired tear gas and bullets to disperse demonstrators during a rally to decry the 1948 founding of Israel, a date Palestinians refer to as "nakba," or catastrophe.
More than 185 demonstrators were detained for alleged vandalism and attacks on police, Egyptian authorities said.
In Israel, a government official who spoke on condition of anonymity said: "Israel has no problem with civilian goods getting into the Gaza Strip. Our focus is on preventing Hamas from building up its very deadly terrorist military machine. In the past they have succeeded in building a formidable capability despite Egyptian efforts to prevent that from happening."
The official warned that if Egypt ceased those efforts, "the situation would be so much more dangerous." Israel hopes that "Egypt will continue to be steadfast in trying to prevent arms shipments to Hamas," the official said, adding: "We've got direct dialogue with the Egyptians on these issues, and we hope that we've got a common interest in preventing deadly weapons reaching extremists."
This error message is only visible to WordPress admins
Error: No connected account.
Please go to the Instagram Feed settings page to connect an account.