Patriarch Rai: 'Lebanon is sick , needs treatment'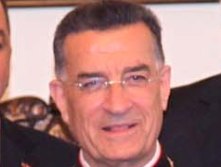 "Lebanon is sick and needs treatment," Maronite Patriarch Beshara al-Rai told a consular delegation on Tuesday stressing that the government crisis has crippled the Lebanese constitutional institutions and led to economic problems
Rais said the people are sick and tired of what is happening in the country and are longing to "tear down the walls" that politics have erected between them.
"We know that we are living a democratic country, but this is not how democracy works …practicing democracy has been forbidden as the opinions of the others have been rejected," Rai stressed.
Hezbollah brought down PM Saad Hariri's government on January 12 over STL's imminent indictment which is widely expected to implicate Hezbollah members in the assassination of the father of caretaker PM
Lebanon has been run by a caretaker government since last January. Nagib Mikati was appointed in January as the PM designate with the backing of the new March 8 majority led by Hezbollah. March 14 leaders have repeatedly said that intimidation from Hezbollah's weapons helped secure the parliamentary majority for Mikati's nomination.
Disputes over cabinet formation have prevented Mikati from forming the cabinet. Free Patriotic Movement leader MP Michel Aoun is reportedly demanding a disproportionate share in the cabinet and is being backed by Hezbollah and Syria in his demands . Aoun is also reportedly insisting on being allocated the 2 most sensitive security portfolios : The ministries of Interior and communications and does not want the president to have any share in the cabinet .