A massive tornado that tore a 6-mile path across southwestern Missouri in the US killed at least 116 people as it slammed into the city of Joplin, ripping into a hospital, crushing cars like soda cans and leaving a forest of splintered tree trunks behind where entire neighborhoods once stood.
Authorities warned that the death toll could climb as search and rescue workers continued their efforts. Their task was made more miserable as a new thunderstorm with strong winds and heavy rain pelted part of the city with quarter-sized hail.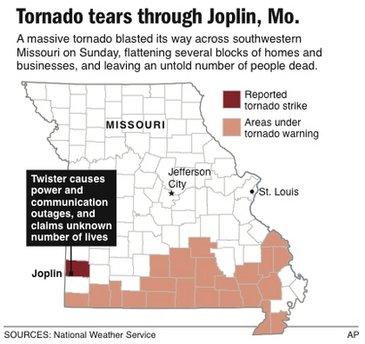 City manager Mark Rohr announced the number of known dead at a pre-dawn news conference outside the wreckage of a hospital that took a direct hit from Sunday's storm. Rohr said the twister cut a path nearly 6 miles long and more than a half-mile wide through the center of town. Much of the city's south side was leveled, with churches, schools, businesses and homes reduced to ruins by winds of up to 165 mph.
Jasper County emergency management director Keith Stammer said about 2,000 buildings were damaged, while Joplin fire chief Mitch Randles estimated the damage covered a quarter or more of the city of about 50,000 people some 160 miles south of Kansas City. He said his home was among those destroyed.
An unknown number of people were injured, and officials said patients were scattered to any nearby hospitals that could take them.
Officers from the city and neighboring towns and counties manned virtually every major intersection. Ambulances came and went, sirens blaring. Rescuers involved in a door-to-door search moved gingerly around downed power lines and jagged debris. A series of gas leaks caused fires around the city overnight, and Gov. Jay Nixon said some were still burning early Monday. Nixon said he feared the death toll would rise but that he also expected survivors to be found in the rubble.
"I don't think we're done counting," Nixon told The Associated Press, adding, "I still believe that because of the size of the debris and the number of people involved that there are lives to be saved."
Crews found bodies in vehicles the storm had flipped over, torn apart and left crushed like empty cans. Triage centers and temporary shelters quickly filled to capacity. At Memorial Hall, a downtown entertainment venue, emergency workers treated critically injured patients.
At another makeshift unit at a Lowe's home improvement store, wooden planks served as beds. Outside, ambulances and fire trucks waited for calls. In the early hours of the morning, emergency vehicles were scrambling nearly every two minutes.
After daybreak, survivors picked through the rubble of their homes, salvaging clothes, furniture, family photos and financial records, the air pungent with the smell of gas and smoking embers. Some neighborhoods were completely flattened and the leaves stripped from trees, giving the landscape an apocalyptic aura. In others where structures still stood, families found their belongings jumbled as if someone had picked up their homes and shaken them.
Kelley Fritz, 45, of Joplin, rummaged through the remains of a storage building with her husband, Jimmy. They quickly realized they would never find the belongings they stored there, and they lost much of what was in their home after the tornado ripped away the roof. Their sons, ages 20 and 17, both Eagle Scouts, ventured outside after the storm.
"My sons had deceased children in their arms when they came back," Fritz said. "My husband and I went out and saw two or three dead bodies on the ground."
Twenty people at a convenience store darted into its cooler as the building began to collapse around them. A video camera inside recorded the group praying and crying as the storm hit in two separate waves. Brennan Stebbins, 23, said he thought he might die, but all were able to climb out of the rubble of the Fast Trip without major injuries.
Sirens gave residents about a 20-minute warning before the tornado touched down on the city's west side, Rohr said. Staff at St. John's Regional Medical Center hustled patients into hallways before the storm struck the nine-story building, blowing out hundreds of windows and leaving the facility useless.
At least four people at the hospital were killed, Dr. Jim Roscoe said. He didn't know whether they were patients or staff. He arrived at the hospital soon after the tornado hit and said some colleagues who also were injured worked all night long.
Med Flight manager Rod Pace watched the tornado form. He saw the rain begin to swirl about a mile off, and the flags outside suddenly stopped blowing, only to be pulled in the opposite direction.
Then the glass doors he was holding onto – ones with a 100-pound magnet to keep them locked – were pulled open. Pace held onto the handles as he was sucked outside briefly and then pushed back in like a rag doll. He fled to the hospital's interior for cover and heard a roar. Pace and a co-worker pushed on another door to make sure it stayed shut, but it kept swaying back and forth.
"I've heard people talk about being in tornadoes and saying it felt like the building was breathing," Pace said. "It was just like that."
The tornado left a helicopter crushed on its side in the hospital parking lot, its rotors torn apart and windows smashed. Nearby, a pile of cars lay crumpled in a mass of twisted metal. Winds from the storm carried debris up to 60 miles away, with medical records, X-rays, insulation and other items falling to the ground in Greene County, said Larry Woods, assistant director of the Springfield-Greene County Office of Emergency Management.
The Joplin twister was one of 68 reported tornadoes across seven Midwest states over the weekend, according to the National Weather Service's Storm Prediction Center. One person was killed in Minneapolis. But the devastation in Missouri was the worst, eerily reminiscent of the tornadoes that killed more than 300 people across the South last month.
Travel through and around Joplin was difficult, with Interstate 44 shut down and streets clogged with emergency vehicles, debris and fallen trees.
Emergency management officials rushed heavy equipment to Joplin to clear the way for search and recovery operations. Nixon declared a state of emergency, and President Barack Obama said the Federal Emergency Management Agency was working with state and local agencies.
About 1,500 volunteers showed up Monday morning at Missouri Southern State University to help with the tornado response, said Gary Burton, a former state lawmaker who went to the campus to add a friend's construction equipment to the list.
The university's football field was used temporarily as a makeshift morgue, but Kevin Smith, one of two chaplains working with victims' families, said the bodies were later taken elsewhere. He didn't know more.
An aching helplessness settled over many residents, who could only wonder about the fate of loved ones.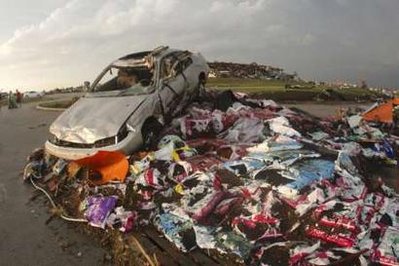 Justin Gibson, 30, huddled with three relatives outside the tangled debris of a Home Depot. He pointed to a black pickup that had been tossed into the store's ruins and said it belonged to his roommate's brother, who was last seen in the store with his two young daughters.
Gibson, who has three children of his own, said his home was leveled and "everything in that neighborhood is gone. The high school, the churches, the grocery store. I can't get ahold of my ex-wife to see how my kids are."
"I don't know the extent of this yet," he said, "but I know I'll have friends and family dead."
Greg Carbin, a warning coordinator for the Storm Prediction Center in Norman, Okla., said that although both storms had high death tolls, the situation in Joplin was different to that in Alabama last month.
"This was one tornado," he said. "There were other tornadoes that touched down yesterday, but nothing to the extent of a month ago. It's different. It was not the same type of large-scale outbreak."
He estimated that the tornado that hit Joplin had winds of 135 to 165 mph.
More severe storms are coming, Carbin said, with Arkansas, Kansas, Missouri and Oklahoma expected see tornadoes Monday and Tuesday and the bad weather spreading to the East Coast by Friday.
In Minneapolis, where a tornado killed one person and injured 29 on Sunday, authorities imposed an overnight curfew in a 4-square-mile area, including some of the city's poorest neighborhoods, to prevent looting and keep streets clear for emergency crews. Mayor R.T. Rybak said one liquor store was looted right after the tornado hit late Sunday and a few burglaries took place overnight. AP