Jumblatt: Told Feltman that isolating Syria won't benefit anyone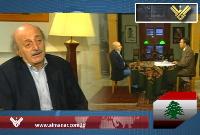 PSP leader MP Walid Jumblat told Hezbollah's Al-Manar on Monday: The Liberation Day proved the futility of negotiations with Israel and the importance of liberating the land without any preconditions.
He also said that he told Feltman that any U.N. resolution that isolates Syria will not benefit anyone and "I hope some parties in Lebanon don't have different calculations."
Al Jumhouriayt newspaper has revealed that US Assistant Secretary of State for Near Eastern Affairs Jeffrey Feltman met Jumblatt at the request of the latter.
The paper added that "Feltman had no plans to meet with Jumblatt . The only people he wanted to meet were President Michel Suleiman , PM designate Nagib Mikati and Speaker Nabih Berri. "It was Jumblatt who asked for the meeting and Feltman obliged because he considered Jumblatt a personal friend and a former ally of the US".
The paper also said that Feltman was angered by Jumblatt's leaks about their meeting and for quoting him out of context and specially because some of that information was not correct . Feltman felt that Jumblatt tried to exploit his meeting with him for petty scores in internal Lebanese politics.