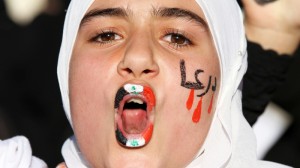 BEIRUT – Activists canceled the first government-approved demonstration in the Syrian capital since the government lifted a 48-year-old state of emergency last month, a Syrian official said Monday.
The silent candlelight vigil in a Damascus public garden was to have honored over 900 people who have been killed since the uprising against President Bashar Assad's rule began in mid-March. Some opponents of Assad have been saying in recent days that they planned to continue the vigil until the regime fell.
All demonstrations had been banned in Syria under state of emergency laws that were abolished last month. Now, organizers must get official permission.
But human rights activists have scoffed at the rule, saying they would be targeted for reprisals if they tried to organize an anti-government demonstration.
The Syrian official said Monday's vigil was canceled on the request of its organizers. He asked that his name not be used because he was not allowed to speak publicly.
Further details were not immediately released.
In neighboring Lebanon, meanwhile, Lebanese soldiers acted as a buffer between pro- and anti-Assad protesters who blocked traffic Monday in Beirut's main commercial and residential Hamra Street, highlighting concerns that the crisis in Syria could spill over into tiny Lebanon.
Many in Lebanon support the uprising in Syria, which maintained troops in the country for 29 years before withdrawing in 2005. But the Syrian regime still holds considerable sway over Lebanese politics, with many loyalists among the population and politicians.
The revolt has posed the most serious challenge to the Assad family's 40-year ruling dynasty. Assad has blamed the unrest on thugs and foreign agitators, not true reform-seekers.
The European Union on Monday imposed sanctions on Assad because of his government's continuing crackdown. The 27-nation bloc instituted an assets freeze and a visa ban on Assad and nine other members of his regime.
Earlier this month, the EU sanctioned 13 people with links to the Syrian regime, but Assad was not among them. A European official said at the time that the omission was part of a deliberately gradual approach.
Syria's foreign minister has acknowledged that U.S. and EU sanctions will hurt Syrian interests, but he says the country will not allow foreign countries to impose their will on Syria.
Minister Walid al-Moallem said Monday the EU sanctions a "mistake."
He said the sanctions will hurt Syria, but they also will hurt the EU and the U.S.
He spoke during an interview on state-run TV.
Human rights activist Mustafa Osso told The Associated Press on Monday there were demonstrations late Sunday in the central cities of Homs and Hama, the northern province of Idlib and the Damascus suburb of Douma.
Unlike previous days when security forces used live ammunition to disperse the protests, security agents sprayed the protesters with water and beat them with batons, Osso said. Dozens of people were detained.
Osso also said the death toll from a crackdown on Friday's wave of protests had risen to 58. The figure given earlier by human rights groups was at least 44.
Also Monday, Anwar al-Bunni, a prominent Syrian lawyer and human rights activist, said he had been released from prison after finishing a five-year jail term. He was sentenced in 2007 by a criminal court on charges of spreading false news that might weaken the nation's morals.
Al-Bunni told the AP after his release Sunday that "freedom would remain incomplete unless it includes all detainees."
Hundreds and possibly thousands of political detainees are being held in Syrian jails.
AP