Iceland's most active Volcano erupts on Saturday
Iceland's most active volcano erupted Saturday, with a white plume shooting 18,000 feet into the air, scientists said.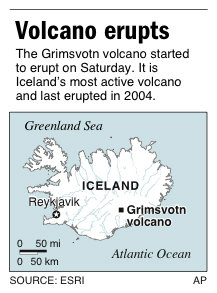 The eruption was followed by around 50 small earthquakes, the largest of which measured 3.7 on the Richter Scale, according to Iceland's meteorological office.
There was a similar eruption at the same volcano in 2004.
Scientists don't believe this eruption will lead to air travel chaos like that caused by ash from the Eyjafjallajokul volcano in April 2010.
The Grimsvotn volcano is located underneath the Vatnajokull glacier in southeast Iceland.
Sparsely populated Iceland is one of the world's most volcanically active countries and eruptions are frequent.
They often cause local flooding from melting glacier ice, but rarely cause deaths.
Last year's Eyjafjallajokul eruption left millions of air travelers stranded after winds pushed the ash cloud toward some of the world's busiest airspace and led most northern European countries to ground all planes for five days.
In November, melted glacial ice began pouring from Grimsvotn, signaling a possible eruption. That was a false alarm but scientists have been monitoring the volcano closely ever since. msnbc