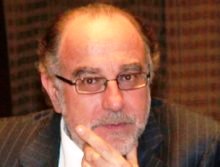 Former Lebanese Finance minister Mohammad Chatah who is the current political adviser to caretaker Prime Minister Saad Hariri denied on Saturday discussing the formation of a new Lebanese cabinet with US Assistant Secretary of State for Near Eastern Affairs Jeffrey Feltman during their meeting in Beirut .
"Feltman did not discuss the situation of the government with us, but of course, there are concerns about the existing political vacuum," Chatah told MTV.
Chatah said that Feltman has already reiterated the US' position that "it will not interfere in the formation of the cabinet.
Similarly president Michel Suleiman's sources told al-Mustaqbal daily on Saturday that the U.S. official did not discuss the government formation process or any other internal Lebanese affair with the president.
Suleiman's sources revealed that the talks with the president focused on the situation in Syria and attempts to create Sunni-Alawite strife there, as well as attempts to create Sunni-Shiite strife in the region.
The sources said Feltman expressed his concern over the Syrian refugees in Lebanon and called on the Lebanese government to work with the U.N. High Commissioner for Refugees and other international organizations, including the International Committee of the Red Cross to fulfill its obligations under international law to provide protection to Syrian citizens fleeing the violence in Syria.
Similarly PM Designate Nagib Mikati's sources told the daily An Nahar in remarks published on Saturday that Feltman in his meeting explained the American policy in the region and its interest in the changes and reforms, especially those taking place in Syria.
The Iranian and Syrian backed Hezbollah brought down PM Saad Hariri's government on January 12 over the Special Tribunal for Lebanon's (STL) imminent indictment which is widely expected to implicate Hezbollah members in the assassination of former PM Rafik Hariri in 2005.
Lebanon has been run by a caretaker government since last January. Mikati was appointed in January as the PM designate with the backing of the Hezbollah led-March 8 alliance, MPs Walid Jumblatt and Mohammad Safadi . March 14 leaders have repeatedly said that intimidation from Hezbollah's weapons helped secure the parliamentary majority for Mikati's nomination.
So far Mikati has not been able to form a government. New obstacles came up after an agreement was reached on naming retired Brigadier Marwan Charbel as the Interior Ministry …. MP Michel Aoun is strongly against allocating any share in the cabinet to president Suleiman . Aoun is also insisting on naming all the Christian Maronite ministers, An Nahar sources reported
This error message is only visible to WordPress admins
Error: No connected account.
Please go to the Instagram Feed settings page to connect an account.