Syrian security forces wounds opposition leaders during Sweida protest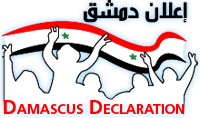 The city of Sweida ( Souweida) the stronghold of the Druze community in Syria witnessed another protest today against the regime of Syrian president Bashar al Assad.
Medical sources have reported that 2 leaders of the Damascus declaration were seriously wounded when the the Syrian security forces attacked the protesters.
The sources did not reveal the names of the leaders
Sweida is located near Daraa the flashpoint of the Syrian uprising
The Damascus Declaration was a statement of unity by Syrian opposition figures issued in October 2005. It criticized the Syrian government regime as `authoritarian, totalitarian and cliquish,` and called for `peaceful, gradual,` reform `founded on accord, and based on dialogue and recognition of the other.
The five-paged document unveiled at an unauthorized press conference was signed by more than 250 "major opposition figures" as well as parties "both secular and religious, Arab and Kurdish." The statement called for a "fair solution for the Kurdish issue in Syria in a way insures the equality of Kurds with all other Syrian citizens".