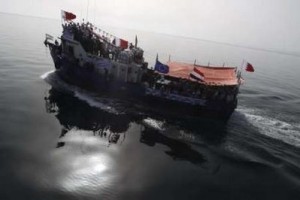 Iranian supporters of Shiite dissidents in Bahrain saw their second flotilla in less than a month turned back from the Persian Gulf kingdom Monday.
The 120 people aboard the two-ship "flotilla of solidarity" included a mix of workers, athletes, lawmakers, physicians and nurses, according to the semi-official Iranian Mehr News Agency. They had left the Iranian port of Bushehr, traveled a dozen nautical miles and were approaching international waters when they were forced to return to port by the Iranian coast guard, according to Mehr News.
There was speculation that the ships, including one named Ayat al-Ghermezi after the late Bahraini dissident poet allegedly raped and murdered by security forces, were barred from entering Bahraini waters after being intercepted by Gulf warships.
Shaykh Fawwaz Bin-Muhammad Al-Khalifah, president of the Bahraini Information Affairs Authority, told Al Arabiya satellite network that the Persian Gulf states had responded to what he believed was "Iranian interference."
"The state of Kuwait has sent naval forces to the Kingdom of Bahrain. It is participating with its sister nations in the Peninsula Shield in deterring any assault against the Kingdom of Bahrain," Al-Khalifah said.
For weeks, Bahraini authorities have criticized Iran's decision to dispatch the ships, claiming it was an infringement on Bahraini sovereignty. The kingdom has faced opposition from anti-government protesters since February, many of whom have been detained in a bloody crackdown of pro-democracy movements.
Nasser Al Fadhala, a former member of Bahrain's parliament, announced Thursday that "Iran should stop interfering in our country's issues. By sending this aid flotilla to Bahrain they are highlighting their propaganda to support those people, who failed to overthrow our regime," according to the pro-Bahraini government Gulf Daily newspaper.
Bahraini scholar Shaykh Salah Al-Jowdir said the flotilla was an act of war and warned that anyone who tried to enter Bahraini national waters would be intercepted.
Iran's government has tried to support Shiites in Bahrain, which until 1960 was the 14th province of Iran. According to the semi-official news agency Fars News, Iranians paying tribute to those who died in the Iran-Iraq war signed a scroll in March showing their solidarity with Bahrain's "oppressed people."
On Monday, the Iranian foreign ministry hosted Bahraini dissident Saeed Alshabi for a seminar addressing the uprising in Bahrain during which he accused western nations, Saudi and Jordanian monarchies of collaborating to suppress pro-democracy protests there.