Feltman is expected in Lebanon on Thursday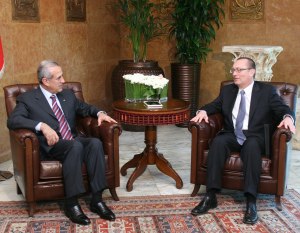 LBC TV reported that U.S. Assistant Secretary of State for Near Eastern Affairs Jeffrey Feltman will arrive in Beirut on Thursday for a 3-day visit during which he will meet with several officials and leaders.
Feltman who served as the United States Ambassador to Lebanon from July 2004 to January 2008 is very popular with the March 14 alliance , but not with the Hezbollah led March 8 alliance. In 2006 Hezbollah leader Sayyed Hassan Nasrallah, dubbed Fouad Siniora's government in Lebanon as the "Feltman Government".
Photo: U.S. Assistant Secretary of State for Near Eastern Affairs Jeffrey Feltman with president Michel Suleiman during his October 2010 visit to Lebanon