Aoun launches another attack against Mikati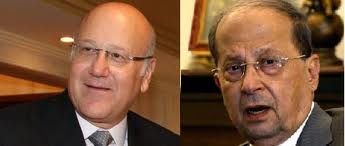 Change and Reform bloc leader MP Michel Aoun criticized PM Designate Nagib Mikati following a meeting with his bloc on Tuesday.
He said Mikati should "justify why he has not formed a cabinet even though the issue of the
ministry of interior has been resolved
Aoun said Mikati is "unaware of the rules of the government formation process as he does not know how to form it from the new majority."
He also said Mikati has no intention to form the cabinet
"There is no intent to form a cabinet" despite the fact that "last week, we resolved the issue of the Interior Ministry." Aoun said and accused the US Ambassador of interference without naming her
Cabinet formation is being obstructed by "ambassadors in Beirut, who interfere and pressure certain parties ," Aoun said and added : "The slogan of 'Freedom, Sovereignty, and Independence' has lost its meaning because those in rule are not free."
( Note to readers who want to know what Aoun's ally president Bashar al Assad thinks about Lebanon's sovereignty and independence. Watch this You Tube in Arabic
Aoun also accused Mikati of being moody in his dealings with March 8 allies.
Mikati is displaying "moodiness" in the way he deals with parties and that "this is not the trait of a statesman." Aoun said
Aoun accused President Michel Suleiman and Mikati of conspiring against the country because they are not exercising their powers in forming the Cabinet.
Former minister Wiam Wahhab said Monday Following talks with Aoun at his al Rabiyeh residence that the new majority is discussing legal ways to get rid of PM-designate Najib Mikati.
Today Mikati's sources challenged Wahhab to find legal way out
"Let them inform us when they find the legal way," Mikati's sources told several dailies in response Wahhab's statement on Monday.
Syria
In his comments on the uprising in Syria he criticized Future bloc MP Mohammad Kabbara without naming him, saying that "manifestations of interference in Syrian issues have begun to appear, such as in Tripoli."
"We began to hear incitement from an MP." He said
On Monday, MP Kabbara called for a "noble and morally appropriate stance on the Syrian people's struggle."
Kabbara was also quoted on Tuesday as saying" My call was based on humanitarian values and not any political view I represent because we reject meddling in Syria's affairs."
Nakba day
Commenting on the Nakba day protests Aoun said :
"Preventing Palestinians from returning to their homeland will push for war. People are dying and the U.N. only calls for restraint, which is a sign of a conspiracy against the Palestinians and Arabs."
Aoun's new home
Aoun referred to the ministry of Water and Energy as his home when asked to comment on the kicking out of Future News television reporter Rabih Chantaf from the ministry last Wednesday by his son-in-law Gebran Bassil during a press conference .
"We want polite ties with reporters, but we can't tolerate rudeness in our homes."
Media Against Violence issued a statement last Thursday condemning Bassil's action.
"Bassil's decision to forbid Chantaf from entering the ministry is a militia act and shows Bassil's desire to turn Lebanon into a dictatorship, " adding Bassil behaved as if the ministry is his own private property ".