relations between March 8 and Suleiman / Mikati deteriorated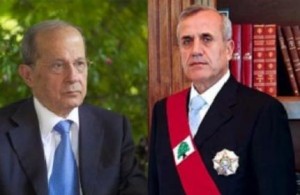 An Nahar sources who keep pace with the process of the formation of the Lebanese government reported that in the past two days there has been no contact between the parties concerned .
The sources also reported that the relations between some of the parties of the new majority and President Michel Suleiman and Prime Minister-designate Najib Mikati have deteriorated following the campaign waged by those parties against the president and the PM designate .
The sources said that the campaign ( against the president and the PM designate ) has Syria's blessing .
New obstacles came up after an agreement was reached on naming retired Brigadier Marwan Charbel as the Interior Ministry …. FPM leader MP Michel Aoun is strongly against allocating any share in the cabinet to president Suleiman . Aoun is also insisting on naming all the Christian Maronite ministers.
The sources said efforts are underway to reach an understanding on allocating 2 ministers for the president one of which will be a Maronite