A mass grave was discovered on Monday in the southern Syrian town of Daraa, at the heart of protests roiling the country for two months and virtually shut off from the outside world, an activist told AFP by telephone.
"The army today allowed residents to venture outside their homes for two hours a day," said Ammar Qurabi, of the National Organization for Human Rights in Syria.
"They discovered a mass grave in the old part of town but authorities immediately cordoned off the area to prevent residents from recovering the bodies, some of which they promised would be handed over later," he said on the phone from Cairo.
Qurabi said the Syrian regime must bear full responsibility for the crimes committed against unarmed citizens and urged the international community and civil society to pressure it to stop the repression of its people.
He said he did not know how many people were buried in the mass grave.
Hundreds of Syrians have been killed in the regime's crackdown on protests that began in mid-March. Now Lebanon
Update
In addition to the mass grave in Daraa, the bodies of 34 people killed by government forces over the past five days were found in nearby villages of Jassem and Inkhel, Qurabi, told Bloomberg by phone on Monday .
Meanwhile the Syrian authorities have said they were chasing Muslim militants and "terrorist elements" in the area. Since the uprising began, state television has been blaming foreigners and terrorist groups for the killings
Watch this You Tube video on the excavation of the mass grave
The Syrian Revolution 2011 Facebook group posted the following pictures on its facebook page and said 20 corpses have been recovered so far from the mass grave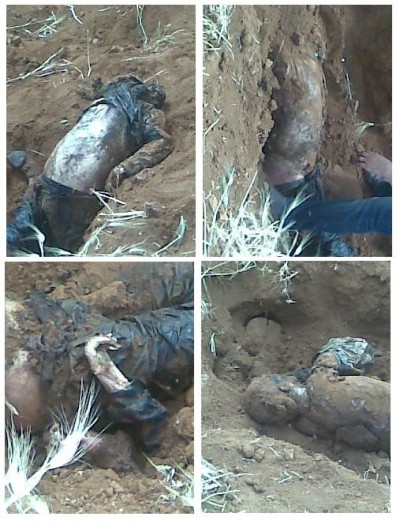 This error message is only visible to WordPress admins
Error: No connected account.
Please go to the Instagram Feed settings page to connect an account.