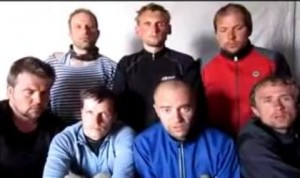 Estonia's foreign minister Urmas Paet told LBC TV : We have asked the Syrian government for help regarding the 7 kidnapped Estonian citizens
The FM added: We have not yet received any demands from the abductors. He denied the rumors that the abductors demanded a ransom of 1 million US dollars. He said unfortunately there have been many rumors and all seem to be far from the truth .
The seven men, all in their 30s, were kidnapped on March 23 shortly after entering Lebanon on their bicycles from neighboring Syria.
A previously unheard of group, Haraket Al-Nahda Wal-Islah (Movement for Renewal and Reform), has claimed responsibility for the kidnapping and demanded an unspecified ransom to free the seven Estonians in two emails sent to a Lebanese website.
An undated video last month was also uploaded to YouTube showing the Estonians begging Lebanese, Saudi, Jordanian and French leaders to secure their release.
The source said that while investigators had not been able to track down the origin of the two emails they had managed to determine that the video had come from Damascus.
"They [investigators] know the name and the address of the people behind this tape which originated in Damascus," a security source said, without elaborating.