UN: Up to 850 killed in Syria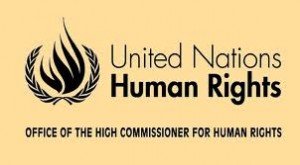 Up to 850 Syrians may have been killed in a two-month military crackdown and thousands of demonstrators have been arrested, the United Nations human rights office said on Friday.
"We again call on the government to exercise restraint, to cease use of force and mass arrests to silence opponents," Rupert Colville, spokesman of the U.N. High Commissioner for Human Rights, told a news briefing.
The toll of 700 to 850 dead, based on information provided by human rights activists, was "quite likely to be genuine", he said, adding that it had lists of names of alleged victims.
Syria has blamed most of the violence on 'terrorist groups' backed by Islamists and foreign agitators. But a rights campaigner, speaking ahead of Friday prayers that have become a rallying point for protesters, said President Bashar al-Assad has ordered troops not to fire on pro-democracy demonstrators.
A high-level U.N. human rights mission was preparing to go to Syria, as well as neighbouring countries, but had not yet received a reply from Damascus, according to Colville.
"We hope to be ready to deploy as soon as we are granted access," he said.
"We have many reports of use of snipers, use of tanks in a number of towns. The government is reporting that soldiers and police have been killed, that is why we want to get in there and see for ourselves," he added.
The U.N. human rights office is also alarmed about the arrest and torture of dissidents in Bahrain, including the death of four detainees while in custody, Colville said.
"We continue to receive reports indicating that hundreds of individuals, including health professionals, politicians and human rights defenders arrested in connection with the protest movement are being denied their fundamental legal rights to due process," he said.
The U.N. human rights office also reiterated its call for an impartial and transparent investigation of grave violations in Bahrain, where authorities have put down pro-democracy protests.
Colville said he understood a peaceful protest could take place in Bahrain on Friday and he urged the authorities to refrain from using force against that.
"We are deeply concerned about the reported scale of arbitrary detention and of trials of civilians before military courts leading to life imprisonment and death sentences which we have already said is illegal," he added.
A military court in the Gulf kingdom ordered the death penalty for four men last month following the killing of two policemen during the wave of demonstrations.
Colville also announced that Yemen had accepted a visit by a U.N. human rights mission. "They suggest a visit at the end of June, we'd like to go rather earlier and we stand ready to deploy.