Security forces fire on protesters in 3 cities in Yemen
Security forces fired on antigovernment protesters in three cities in Yemen on Wednesday, killing at least 12 people and wounding more than 100, doctors said.
The Yemeni government said it held the political opposition "fully responsible" for any violence, which appeared to make it even less likely that the sides could reach agreement on a final accord for a peaceful transfer of presidential power.
At least 10 people were killed in Sana, the capital, and more than 100 were wounded, said Abdul Wahab al-Anesi, a doctor at a field hospital in the city.
"I expect the number of killed to rise," he said. "We are not accepting anyone else at the field hospital. We are full. We have a shortage of supplies."
In addition, a protester was killed in Taiz in the southwestern mountains, said a doctor there, Abdul Rahim al-Samie, and about 45 people were wounded. He said that for the first time he saw patients with injuries caused by large-caliber weapons.
One protester was killed in Hodeidah, a port city on the western coast, a local doctor said.
In Sana, thousands of protesters tried to march down several side streets toward the prime minister's office on Wednesday afternoon. The government contended that the demonstrators planned to break into government offices, and it responded aggressively.
Witnesses said that snipers shot at the protesters from nearby buildings, while security forces fired at the demonstrators from the street. The shooting continued intermittently for hours until late into the evening.
The security forces eventually moved closer to the main demonstration area in front of Sana University, where people have been protesting since the uprising against President Ali Abdullah Saleh began in February. Water cannons and tear gas were also used. Protesters were beaten by men in plain clothes and by soldiers wielding sticks.
One protester, Shaif al-Mohamedy, 19, said: "The shooting came from atop the houses. We were protesting against all the violence in Taiz and Hodeidah and the crimes committed against our brothers in all the provinces."
The government said the protesters were acting "in violation of the law after this afternoon with a plan to break into a number of institutions and government facilities," according to a government statement released by the official news agency Saba.
"Security services responsible for protecting installations and government facilities will not hesitate in performing their duty to protect those facilities," the statement read, adding that the political opposition coalition, known as the Joint Meetings Parties, was "fully responsible" for the "blood that was shed."
Over the past few days, protesters in Sana have talked about marching on government buildings to increase the pressure on Mr. Saleh. For many weeks, they have been demanding that he leave office immediately.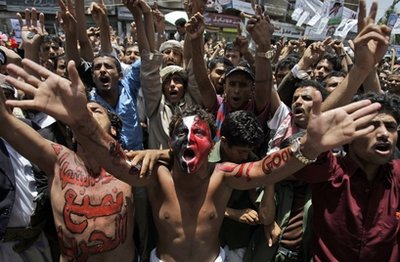 Some protesters who are mostly independent of the political parties had planned a march on the presidential palace on Wednesday morning, but decided against it because of concern that they would come under heavy attack from the security forces, according to youth leaders.
The group of a few thousand that tried to march on the prime minister's office in the afternoon appeared to be aligned somewhat with the opposition political parties.
For months, there have been some tactical differences between the young protesters affiliated with opposition parties — namely Islah, the Islamist party — and young people who are independent of political parties. Protesters said that Islah leaders had been pressing government opponents to take more direct action and march on government buildings.
"We did not call or plan any marching or escalation today, and we do not take any responsibility for it," said a statement released online by an independent youth leadership committee.
As Wednesday evening wore on, security forces firing live ammunition drew closer to the main sit-in area along a main street in front of Sana University. Many protesters said they feared that their encampment would be attacked, and they told foreign journalists at the site to leave because of the potential danger.
More than 130 protesters have been killed during Yemen's uprising. Mr. Saleh and the political opposition are at a stalemate over the details of a plan brokered by a regional bloc, the Gulf Cooperation Council, for the embattled president to leave office. Meanwhile, the country's military is divided and the economy is faltering, creating further instability in the already fragile and impoverished state.