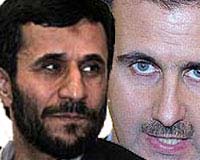 Beirut, Lebanon – Syrian security forces appear to be shifting their strategy for crushing the popular uprising against the rule of President Bashar Assad to a less bloody approach similar to that used effectively by its main ally, Iran, to end massive 2009 street protests.
In recent days, Assad loyalists have curbed their use of live fire, which has left hundreds of Syrian civilians dead and many more friends, relatives and neighbors willing to avenge them. Instead, security forces are increasingly using nonlethal means such as tear gas, truncheons and waves of random and targeted arrests, just as Iranian authorities did to rein in the protests that followed the disputed reelection of President Mahmoud Ahmadinejad.
Some in the Syrian protest movement and in the West, including American officials, allege that Iran is actively helping Assad retain the post held by him or his late father for more than four decades. The White House late last month imposed new sanctions on Iran's elite Revolutionary Guard, alleging Iranian involvement in and support of the government crackdown.
Tehran strenuously denies providing material support or advice to Syria and has called for peaceful dialogue and reform there. If Iran is involved, that could further indebt Assad to Tehran, complicating efforts by the U.S., Israel and Saudi Arabia to coax Damascus to loosen its ties with Iran and the Islamist militant groups Hezbollah and Hamas.
Authorities in Iran, a country steeped in a culture of Shiite Muslim martyrdom, learned quickly in 2009 that killing protesters only served to draw attention to their cause and turned them into symbols of defiance. The prime example was 26-year-old Neda Agha-Soltan, whose shooting death during a peaceful demonstration was captured on amateur video and broadcast to the world.
In Syria, death tolls for the protests held after Friday prayers dropped to about 30 last week compared with about 60 the previous week and more than 100 on April 22. Meanwhile, mass arrests of activists, protesters and in some cases males over the age of 15 have skyrocketed, with thousands held in detention centers where human rights activists say they have been subjected to physical and mental abuse. Protests have become smaller and more scattered, as activists find it harder to gather.
"What they're doing now is very similar to what was happening in Iran," said Rami Nakhle, a Syrian activist who fled to Beirut this year. "They've learned that when you kill someone, you create 10 to 20 people ready to die for him. When you arrest someone, torture him and let him go in a week, you've made 20 people afraid of going into the streets."
An Iranian reformist website, the Green Voice of Freedom, cited an official source as saying that a meeting took place in Damascus in mid-April between Syrian officials and Iranian Brig. Gen. Ahmad Reza Radan, the police commander who oversaw the 2009 crackdown.
A former Iranian diplomat said he doubted the meeting occurred, but he did suggest that Tehran's deep strategic interest in Syria, which serves as a conduit for spreading Iranian influence to the borders of archrival Israel, would compel it to offer some type of assistance, probably through the Revolutionary Guard's secretive Quds Force, which Iran authorizes to carry out operations abroad.
"Radan is so notorious and recognizable that the Islamic Republic of Iran does not make such a blunder as to send him there," said the former diplomat, speaking on condition of anonymity because he is in Iran. "But the Quds division is authorized to lend a hand to Syria if the Supreme National Security Council approves it as a clandestine project."
The powerful council includes Supreme Leader Ayatollah Ali Khamenei, Ahmadinejad and the heads of Iran's security branches.
Despite major differences between the two nations — Iran is a hard-line Shiite Muslim theocracy while Syria is a mostly Sunni Arab nation controlled by a minority Alawite family — a deep and long-standing relationship has grown between leaders in Damascus and Tehran. Their security forces often train together, coordinate strategy and supply each other and their surrogates with weapons. The countries also have numerous treaties that commit them to each other's defense.
Iran has a vastly different relationship with Syria than any other country. Even as the U.S. and European Union imposed fresh economic sanctions on leaders in Damascus, Iran this week touted the second annual exhibition of Iranian commercial products and announced plans to increase the volume of trade between the nations from $400 million to $5 billion, according to the official Islamic Republic News Agency.
"Anyone who believes that political decisions in Damascus are taken without Iran these days is mistaken," Abdul-Halim Khaddam, a former Syrian vice president who served under both Assad and his father, told the German weekly Der Spiegel in an interview published May 3. "Bashar and his brother Maher have become vicarious agents of the Iranian Revolutionary Guard."
According to Khaddam, many of the Syrian intelligence officials overseeing the crackdown trained in Iran as part of the decades-old policy of military and security cooperation.
"We know the cooperation is happening, not only because of the nature of the relationship between the two regimes," but because of the mutual-defense treaties, said Ammar Abdulhamid, a Washington-based Syrian activist. "This is exactly what is expected at times like this between allies."
In a briefing last month, Susan Rice, U.S. ambassador to the United Nations, said, without providing evidence, that "instead of listening to their own people, President Assad is disingenuously blaming outsiders while at the same time seeking Iranian assistance in repressing Syria's citizens through the same brutal tactics that have been used by the Iranian regime."
On Tuesday, the European Union imposed sanctions on 13 Syrian leaders, including Maher Assad. But because of a split within the alliance, it did not slap sanctions on the president.
Some diplomats, analysts and activists note that Syria's 48-year-old Baath Party regime hardly needs pointers on crushing dissent.
"They've been disappearing people forever," said a Western diplomat in the Middle East, speaking on condition of anonymity. "They don't need advice on running a police state."
In recent weeks, activists in Syria have been circulating unverified tales of Iranian snipers posted on rooftops and Iranian equipment being used to beat protesters. In 2009, Iranian protesters likewise spread rumors that Lebanese members of Hezbollah were taking part in the Tehran crackdown.
Still, some doubt that strategies employed by Iran would work in Syria. The uprising in Iran was caused by widespread opposition to Ahmadinejad's reelection, which was marred by blatant polling irregularities. In contrast, the Syrian revolt "is an uprising against the secret police," said activist Nakhle, and was sparked by the detention and alleged torture of a group of young men accused of writing anti-government graffiti in the southern city of Dara.
"It's not analogous to the Iranian situation," said the Western diplomat. "Torture and arrests? This is exactly the strategy that got people enraged." LAT